WeTechBerlin
Who's Who at WeTech Berlin 2020
Leading industry and government figures will convene later this month at Calcalist's WeTech Berlin conference
Berlin may be cold and grey in late February, but the conference hall at the Berlin Hilton will be teeming with excitement and activity as Calcalist launches the WeTech Berlin 2020 conference in collaboration with Israel's Bank Leumi and German real estate company Aroundtown Property Holdings PLC. Following the success of last year's conference in Berlin, Calcalist will once again bring together leading entrepreneurs, investors, and organizations from Israel and Germany for two days of discussions, mingling, and business. The conference will be hosted by Nimrod Kozlovski, partner at Israel-based law firm HFN and lecturer at Tel Aviv University.

WeTech Berlin is set to open on February 26 with a festive cocktail event attended by Israel's ambassador to Germany, Jeremy Issacharoff. Conference activities, including panels and the traditional Meet & Pitch event, will take place the next day.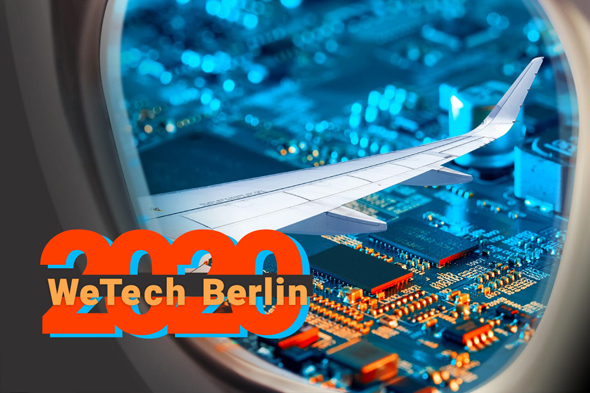 WeTech Berlin 2020
For the conference agenda,
click here
.
Opening the conference will be Leumi executives Shmulik Arbel and Yifat Oron, and Andrew Wallis, deputy CEO of Aroundtown. Calcalist's founder and publisher Yoel Esteron said ahead of the conference: "the decision to return to Berlin for another tech and innovation event was no coincidence. The distance between Tel Aviv and Berlin has grown shorter. Berlin fascinates Israeli entrepreneurs more than ever, and German companies are looking forward to collaborating with Israeli tech."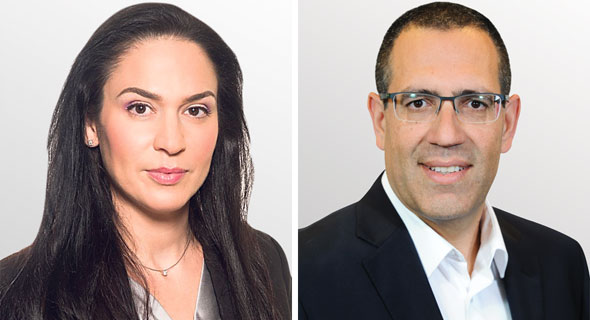 Yifat Oron (left) and Shmulik Arbel. Photo: PR

One of the key speakers in the conference will be Deven Parekh, managing director at New York-based venture capital and private equity firm Insight Partners. Parekh, who has led investments in companies such as Tumbler, Twitter, Media Mind, JD.com Inc., and ECI, has vast experience in mergers and acquisitions and has been included in Forbes' prestigious Midas list five times. In 2016, Parekh was appointed by then-U.S. President Barack Obama to head the board of directors of the Overseas Private Investment Corporation (OPIC), the U.S. government's development finance institution. Insight Partners' portfolio includes companies Shopify Inc., Nextdoor Inc., Trivago NV, Wix.com Ltd., WalkMe Inc., and Papaya Global Ltd.

British inventor, entrepreneur, and speaker Richard Browning founded Gravity Industries Ltd. in 2017. The company develops the Daedalus Mark 1, a jet pack that uses several miniature jet engines to achieve vertical human flight.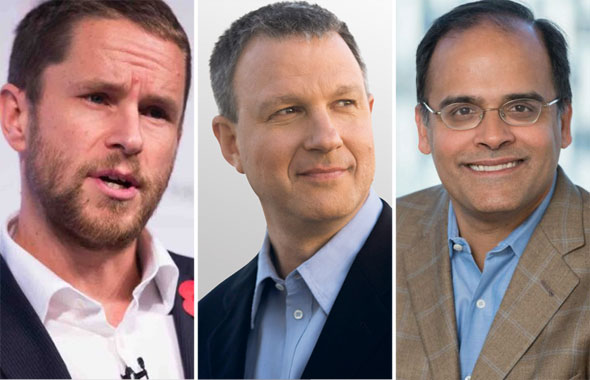 Richard Browning (left), Erel Margalit, and Deven Parekh. PR

Andrew Wallis is a graduate of the University of Westminster. Wallis previously served as a vice president at both Merrill Lynch and JPMorgan.

From European investment fund Target Global, general partner and vice chairman Shmuel Chafets, and managing general partner Yaron Valler will also be attending. The Berlin-based venture capital firm has invested in companies including Auto1 Group GmbH, Delivery Hero SE, Juno, Blue Apron Holdings Inc., and Smartfrog.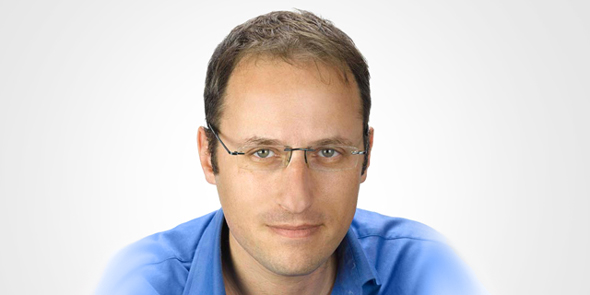 Yaron Valler. Photo: PR

Lukasz Gadowski is a co-founder and the CEO of Berlin-based shared electric scooter company Circ, incorporated as LMTS Holding S.C.A. Circ was acquired last month by Los Angeles-headquartered electric scooter-sharing company Bird Rides Inc. for an undisclosed amount. Gadowski is also a co-founder of Delivery Hero.

Brig. Gen. (res.) Daniel Bern is the co-founder and CEO of cybersecurity company Otorio Ltd. In his last military role, Bern served as chief cyber defense officer and chief information officer of the Israeli army. Founded in 2018, Tel Aviv-headquartered Otorio develops a dedicated cyber platform for the manufacturing industry. In practice, it manages a factory's defense system from end to end, including risk assessment, strategy implementation, and risk management tools.
Daniel Bern (left), Lukasz Gadowsk, and Andrew Wallis. Photo: PR
Gregory Dewerpe is the founder of European venture capital firm A/O Proptech. The group invests in real estate and property-tech companies from Series A to later-growth stages.
Uli Schmitz is the managing director of Axel Springer Digital Ventures GmbH. Schmitz oversees publisher investments and has overseen investments in companies including Airbnb, Uber, and Magic Leap.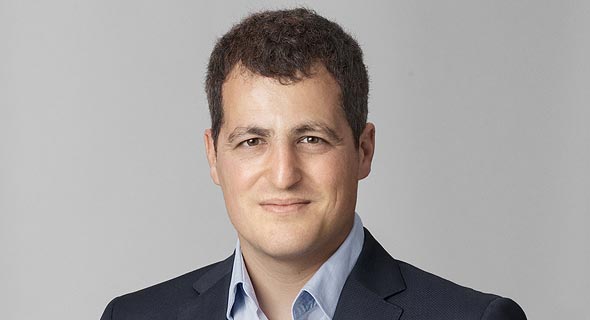 Shmuel Chafets. Photo: PR
Marcel 'Otto' Yon previously served as the CEO of the Bundeswehr Cyber Innovation Hub, the digital innovation unit of the German Armed Forces. Yon, a serial entrepreneur, has founded several startups over the last two decades in the field of artificial intelligence.
Daniel Pindur is a partner at private equity firm CVC Capital Partners. Pindur joined CVC in 2005. Pindur is a member of the CVC Germany team and is based in Frankfurt.
Daniel Shinar is the CEO of Tel Aviv-based growth investment firm ClalTech, and leads Israeli tech investments for New York-based Access Industries, founded by industrialist and philanthropist Len Blavatnik. Among the companies that Shinar invested in or was a board member at are Frankfurt-listed Rocket Internet and Global Fashion Group, Alibaba Group subsidiary Lazada Group, Deezer, Lightricks Ltd., Yotpo Ltd., IronSource Ltd., and Dynamic Yield Ltd., acquired last year by McDonald's Corp.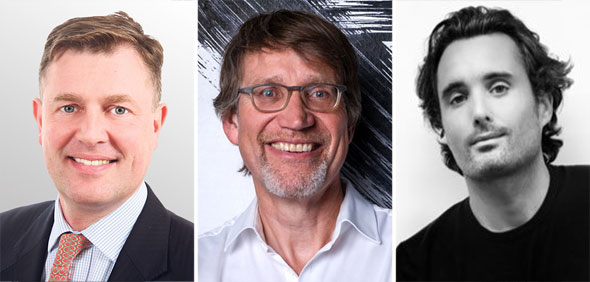 Marcel 'Otto' Yon (left), Uli Schmitz, and Gregory Dewerpe. Photo: PR

Daniel Kirchleitner is one of the founders of Siemens AG's investment arm Next47 and works as the firm's director of operations. Kirchleitner leads Next47's investment efforts in Europe out of the Munich and London offices. His investments focus on covers logistics, robotics, and enterprise software.

After a four-year stint in the Israeli Knesset, former lawmaker and member of the Israeli parliament cybersecurity sub-committee, Erel Margalit, was appointed the chairman of Jerusalem-based venture capital firm Jerusalem Venture Partners (JVP), which he founded in 1993. Since its establishment, JVP has raised over $1.4 billion in commitments, across nine funds, investing in over 130 companies.

Nina Fichtl is a member of the leadership team for Allianz X (AZX), the digital investment arm of multinational insurance company Allianz, and co-leads the AZX portfolio team. Fichtl joined Allianz in 2011 and AZX in 2017.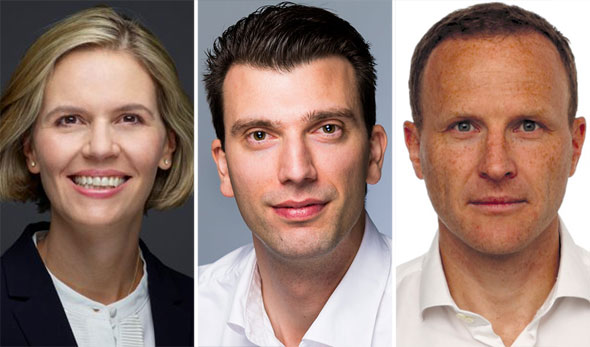 Nina Fichtl (left), Daniel Kirchleitner, and Daniel Pindur. Photo: PR

Carsten Keller is a vice president at Berlin-based online fashion retailer Zalando SE. Zalando operates by collaborating with brick and mortar fashion retailers to increase availability and speed of delivery and compete with services such as Amazon's same-day delivery. Founded in 2008, Zalando is active in 15 countries in Europe.

Björn Von Siemens is the co-founder of Caresyntax Inc., a company that uses data analytics to help hospitals reduce surgical risk and improve outcomes. The company has raised $77 million to date.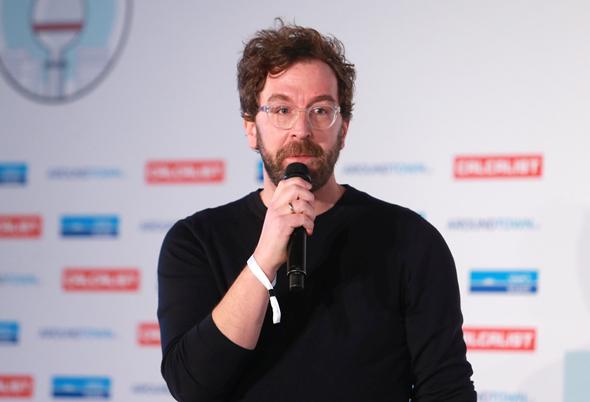 Carsten Keller. Photo: Orel Cohen

Lihi Pinto Fryman, a co-founder of Syte-Visual Conception Ltd., will also be attending. The company offers shopping suggestions based on image recognition software. Users can upload an image of an outfit and the company's technology breaks it down to its components, suggesting similar items to those pictured from multiple retailers. Syte has raised $30 million to date.

Danit Peleg is a fashion designer known for pushing the boundaries of 3D printed fashion. She has designed an entire collection created using home desktop 3D printers.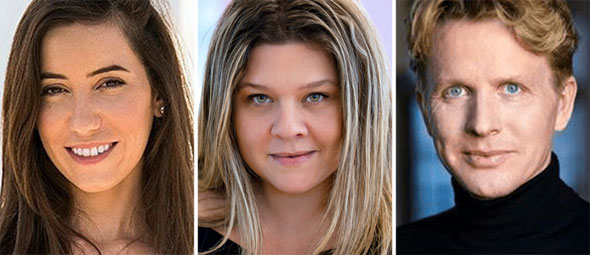 Danit Peleg (left), Lihi Pinto Fryman, and Björn Von Siemens. Photo: PR

Irit Kahan is a managing director at Deutsche Telekom Capital Partners, the venture investment arm of telecommunications provider Deutsche Telekom AG. Among the startups the fund invested in are Tel Aviv-based cybersecurity startup GuardiCore Ltd., cybersecurity startup Morphisec Ltd., IoT startup Axonize Ltd., and Israel-based enhanced reality startup Texel.

Valerie von der Tann is the CEO of ViaVan, a joint venture by Daimler AG's van division Mercedes-Benz Vans and U.S-based ride-sharing company Via Transportation Inc. The Berlin service, operated in partnership with Berlin's public transportation authority, Berliner Verkehrsbetriebe (BVG), was first announced in late 2017.

Cem Savas is the co-founder and CEO of Plentific Group. Plentific Ltd. offers real estate owners and property managers an online marketplace for home repairs and maintenance services.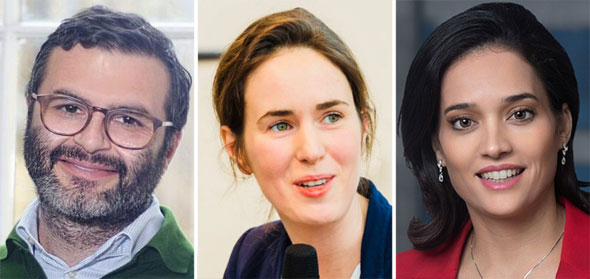 Cem Savas (left), Valerie von der Tann, and Irit Kahan. Photo: PR
Nissan Caspi, the CEO of IP Innovative Power GmbH, will speak about the climate change-related challenges for the upcoming decade.
As part of the conference, CTech and Calcalist will host the Meet & Pitch event where Israeli entrepreneurs and growth-stage companies will meet with top European executives and venture capitalists from companies including Axel Springer, Porsche, Deutsche Bahn, Lakestar VC, Meron Capital, Innogy Innovation Hub, The Drivery, German Startup Association, Remagine Ventures, ProSiebenSat.1, StageOne Ventures, Next47, Costa Norte Capital, Leumitech, Bank Leumi, Target Global, Insight Partners, Warburg Pincus, Bayer, FutureTV Group, Vitruvian Partners, Fielmann Ventures, Kreos Capital, Davidson Capital, JAL, Volkswagen, Zalando, CVC Advisers, and TAU Ventures.