Election
In Israel, Education, Religion, and Ethnic Backgrounds Dictate Voters' Choices
A closer look at the voting results of Israel's September election shows education trumps socioeconomic status, but religious and ethnic backgrounds trump both
On Monday, Israelis will head to the polls for the third time in 11 months in hopes of finally bringing an end to the country's political limbo. The two main contenders for the ruling party are Likud, headed by current Prime Minister Benjamin Netanyahu, and Blue and White, headed by former Israeli Chief of Staff Benny Gantz. September's election ended with a close tie—33 seats for Gantz and 32 seats for Netanyahu—and neither leader managed to assemble a coalition by the deadline. In order to assemble a coalition, a candidate needs to secure the support of at least 61 knesset members out of 120 seats..

A closer look at the voting data from September, cross-referenced with the statistics of Israel's 34 cities with a population of at least 50,000 people, sheds light on the motivations of the Israeli voter. One conclusion is that the higher the percentage of residents with tertiary education, the more people voted for centrist party Blue and White and for left-wing parties including Labor and Meretz. In light of Israel's diverse population characteristics, ethnic background and religious beliefs also play a big part.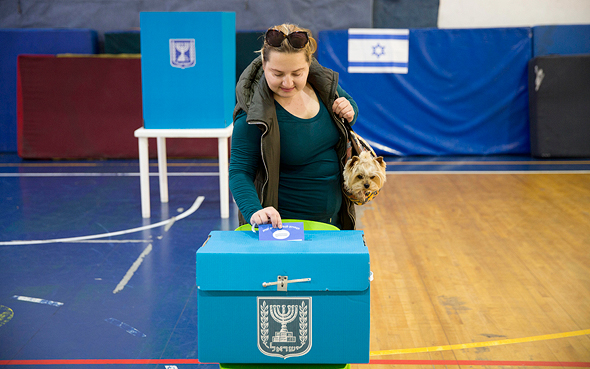 A woman voting in Israel's April 2019 election. Photo: AP

According to professor Momi Dahan of the Federmann School of Public Policy at the Hebrew University of Jerusalem, those with higher education tend to adopt liberal values, chief among them equality. "It is a very significant factor in this election," he told Calcalist in a recent interview. Likud voters give a bigger emphasis to the Jewish part in Israel's definition as a Jewish and democratic state, while among Blue and White, Labor, and Meretz voters those two values are more balanced, he said. "It goes hand in hand with higher education, partly because it opens people up to liberal ideas—and this is true the other way around as well."

Among the cities included in the population data, provided by Israel's Central Bureau of Statistics (CBS) for 2018, are secular Jewish cities such as Hod HaSharon, Ra'anana, Kfar Saba, Petah Tikva, and Nahariya; cities with a mixed Jewish-Arab population like Haifa, Jerusalem, Lod, and Ramla; Arab cities such as Umm al-Fahm and Rahat; and cities with a predominantly ultra-Orthodox (Haredi) Jewish population, including Bnei Brak and Israeli West Bank settlements Beitar Illit and Modi'in Illit.

In Ra'anana, in which 51% of residents have an academic education, the highest percentage among all cities surveyed, 43% of voters chose Blue and White, while only 22% voted for Likud. In Eilat, which had 13% academics, the lowest number excluding Arab and Haredi cities, Likud collected 43% of votes while Blue and White settled for 28%. In mixed city Ramla, where 15.5% of people had an academic background, 43% voted for Likud and only 14% voted for Blue and White.

But, is education the most significant predictor of voting in Israel? Gideon Rahat, a senior fellow at Jerusalem-based independent research center the Israel Democracy Institute and a professor at the Hebrew University's department of political science, thinks religious and enthic backgrounds have a larger impact on voting than education. In the U.S., higher education is a good predictor as it correlates with Democratic voting, he told Calcalist. But in Israel, he said, the more religious a person, the more right-wing will that person lean, while secular people will vote for left-wing parties.

The data concerning Israel's predominantly Arab and haredi cities seems to support Rahat's thesis. Umm al-Fahm, Nazareth, and Rahat have between 6% and 17% of residents with higher education, as do Modi'in Illit, Beitar Illit, and Beit Shemesh. The Joint List, which includes the four major Arab-led parties, received 96% of votes in Umm al-Fahm, 92% of votes in Nazareth, and 80% of votes in Rahat. United Torah Judaism, one of the two Haredi factions, received 80% of votes in Modi'in Illit, 65% in Beitar Illit, and 61% in Beit Shemesh.

Dahan seconds Rahat's opinion that ethnic background trumps education levels in Israel as a key factor for voters. The local Arab population tends to vote for those it believes will best defend the interests of Israel's Arab minority, he said—and one can assume that the voting behavior would not change in these cities even if the percentage of academics goes up. "Over the last 30-40 years, the number of those continuing their academic education among Israel's Arab citizens increased significantly," he said. "Did they change their voting behavior? If anything, voting for distinctly Arab parties went up."

These findings, according to Dahan, point to another conclusion; economic interests are not a major voting consideration, despite the fact that Israel's high costs of living are a major topic among the population on an everyday level. In fact, CBS' socioeconomic index shows an almost complete correlation between income and education, meaning Israel's poorer groups are also usually its least educated. Haredi and Arab cities and towns make up most of Israel's bottom socioeconomic decile, but Haredim tend to vote for the Haredi factions, whose main platform is the importance of religious studies rather than economic prosperity.

Netanyahu takes a neo-liberal economic approach, with a bigger emphasis on free market economy, Dahan said. Labor and Meretz, however, run with a more socialist platform. "In the September 2019 elections, poorer, less educated people tended to support Likud, in essence voting against their own interests," he said. Those with higher education, who vote more for left-wing parties, are also seemingly going against their own interests.

"On both sides of the political map, the voting pattern seemingly goes against the economic interests of the voters," Dahan said. According to him, that is because Israeli voters give questions like a party's position regarding the Israeli-Palestinian conflict, seperation of church and state, and equality a level of significance that sometimes overrides economic interests.

His views are supported by the fact that parties that run with a mostly economic platform do not tend to survive long in the Israeli landscape: center-right party Kulanu, led by finance minister Moshe Kahlon, dropped from 10 seats to four after one election and had to join forces with Likud, while centrist party Gesher joined the Labor party for September's election after failing to even pass the voting threshold in April 2019.

There is one more factor to consider. Avigdor Lieberman and his nationalist party Yisrael Beiteinu were arguably the deciding factor that prevented either Likud or Blue and White from forming a coalition in September, and he may yet prove to be the kingmaker in Monday's election. The party saw higher voting percentages mainly in cities where 20%-30% of residents have an academic background. Led by Kishinev, Moldova-born Lieberman, the party received high levels of support in Bat Yam, Ashkelon, and Ashdod, all cities with a large percentage of immigrants from former Soviet Union countries.