WeTech Berlin
From DB to Germany's Largest Eyewear Company: the Investors at the Meet & Pitch Event
Investors from European and global companies participated in the Meet & Pitch event that took place Thursday as part of the WeTech Berlin 2020 conference
The conference hall at the Hilton Berlin was full, and the people around the tables at the Meet & Pitch event were anxiously awaiting the gong that will commence the speed networking session. The event took place Thursday as part of the WeTech Berlin 2020 conference, held in collaboration with Israel's Bank Leumi and German real estate company Aroundtown Property Holdings PLC. The people at the tables are Israeli entrepreneurs who came to Berlin to find investors, and they are meeting with representatives from large European companies looking to make a strategic investment.

The potential investors are as varied as the startups—from venture capital firms to the innovation arm of Europe's largest public transportation companies and telcos. "We love the Israeli ecosystem because it has startups to tackle challenges throughout the value chain, from retail tech to deep technologies for the eyewear industry," Katrin Pietschmann, head of business development Fielman Ventures, the investment arm of Hamburg-headquartered eyewear company Fielmann AG, told Calcalist.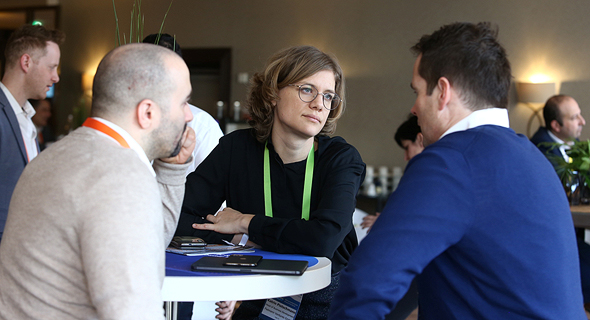 Katrin Pietschmann, head of business development Fielman Ventures. Photo: Orel Cohen

Fielmann has yet to invest in an Israeli company but is actively looking for strategic investment opportunities in companies that have a working product, Pietschmann said.

German railway company Deutsche Bahn AG (DB) is also on the lookout for Israeli companies to connect its trains with new technologies. The invention of the train was the first great revolution, but this field has not evolved much since, Boris Lewin of DB's venture capital arm told Calcalist. DB is now looking to make the shift to industry 4.0 and can utilize technologies in diverse fields—from cargo transport to tracking and maintenance, he said.

Samuel Grecco de Souza also works for a company that is not perceived as inherently technological. De Souza is a digitalization expert at Sao Paulo-based car part manufacturer Iochpe-Maxion SA, which until recently was focused on Brazil, Mexico, and the U.S. In November 2019, the company launched an innovation hub in Berlin hoping to inject its manufacture lines with fresh technologies. "When we got to Berlin, we were exposed to the Israeli tech culture very quickly, and I was personally surprised by the vast number of Israeli companies operating in the field," de Souza told Calcalist. According to him, Maxion is not looking to acquire companies at this point, and the Berlin hub is meant for discovering technologies from the fields of internet-of-things (IoT), artificial intelligence, and improving production processes in the automotive industry.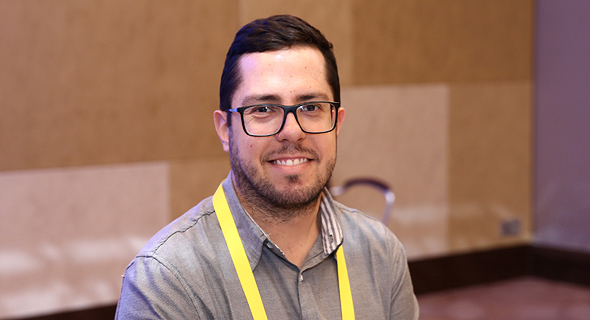 Maxion's Samuel Grecco de Souza. Photo: Orel Cohen

Jorge Fontúrbel Sáez, an analyst for Berlin and Tel Aviv-based venture capital firm Target Global, said his firm focuses on early stage companies and attempts to detect those entrepreneurs that are best suited to take their companies forward.

Fontúrbel Sáez joined target about a year ago and is focused on finding investments in the field of mobility for his firm's dedicated fund of over $100 million. Even though he works out of Berlin, Fontúrbel Sáez says he often travels to Israel and is familiar with the local ecosystem.

There are those who take the opposite route, for example, Yuval Cohen, managing partner at Israel-based venture firm StageOne Ventures, is looking for European startups with some connection to Israel. "What is currently happening in Europe is what we saw in Israel 15 years ago," he told Calcalist. Young people in Germany today no longer dream of becoming engineers and working for Deutsche Telekom AG, they want to found a startup, he said. If before, failure was considered a permanent stain in Germany, making entrepreneurship too risky, now people realize failure is a part of life and nothing to be afraid of, Cohen said.