Election
With Near Final Results, Likud Two Seats Short of a Coalition
After 97% of votes were counted, Benjamin Netanyahu's Likud party has received 36 seats, while Benny Gantz's Blue and White has 32; a right wing-Haredi block currently has 59 parliament seats
Update 14:16: after 97% of the votes were counted, Likud has 36 seats out of 120, while Blue and White has 32. The Joint List has 15 seats, Shas has 10, United Torah Judaism, Labor-Gesher-Meretz, and Yisrael Beiteinu each have seven, and Yamina has six. Overall, the current count gives a right wing-Haredi block, not including Yisrael Beiteinu, 59 seats. Of around 10,300 polls, 310 have yet to be counted.

Israel's election for the 23rd Knesset ended Monday at 10 p.m. After 62.1% of the votes were counted, the ruling Likud party and its leader, Benjamin Netanyahu, received 35 seats out of 120, while Blue and White, led by Benny Gantz, received 31 seats. The Joint List, which includes the four major Arab-led parties, remains the third-largest party with 18 seats. Haredi parties Shas and United Torah Judaism received nine and eight seats, respectively. Nationalist party Yisrael Beiteinu got seven, right-wing party Yamina six, and the Labor-Gesher-Meretz union six.

Taking into account the overall results, a right wing-Hardei (ultra-Orthodox Jewish) block currently has 58 seats, meaning Netanyahu is just three seats short from establishing a coalition.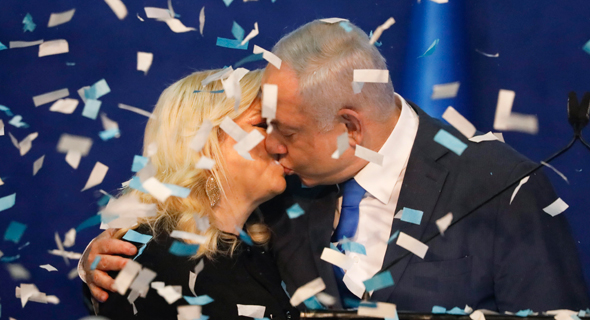 Likud Leader Benjamin Netanyahu and wife Sara celebrating. Photo: AP

This is Israel's third attempt at choosing a government in less than a year. Elections held in April and September ended in a stalemate after both Netanyahu and Gantz failed to secure a 61-seat majority as linchpin Avigdor Lieberman and his party Yisrael Beiteinu did not commit to either candidate. The voter turnout at the close of the polls was 71%, the highest since 1991.

According to a sampling by Israel's Channel 13 news broadcast, updated at 1 a.m., Likud has secured 37 seats, Blue and White 34, and the Joint List 14. Shas received nine, Labor-Gesher-Meretz seven, United Torah Judaism seven, Yamina six, and Yisrael Beiteinu six. Based on these speculative results, the right wing-Haredi block had 59 seats, while the centrist-left-Arab block had 55.

Sampling done by Channel 12 news showed 37 seats for Likud in the early hours of Tuesday, 32 for Blue and White, 15 for the Joint List, nine for Shas, seven each for Yisrael Beiteinu, United Torah Judaism, and Labor-Gesher-Meretz, and six for Yamina. According to this sampling, the right wing-Haredi block has 59 seats, while the centrist-left-Arab block has 54.

Channel 11's sampling, updated at 2 a.m., showed 36 seats for Likud, 33 for Blue and White, 15 for the Joint List, nine for Shas, eight for United Torah Judaism, seven for Yisrael Beiteinu, and six for Yamina and Labor-Gesher-Meretz. This also put the right wing-Haredi block at 59 and the centrist-left-Arab block at 54.

After the samplings were published, Netanyahu uploaded a photo to Twitter of him and his family celebrating with Likud campaigners, captioning it "a huge victory for Israel." He also tweeted "thank you" in Hebrew, along with a red heart. At an early morning Likud event, Netanyahu thanked supporters for what he called "a victory against all odds." He stated that he has talked with all the leaders of the right-wing parties and that they had agreed to establish "a strong national government as soon as possible."

At the event, Likud supporters shouted "Mandelblit go home," referring to Israel's attorney general Avichai Mandelblit, Netanyahu's pick who decided to indict Netanyahu on several counts of bribery, fraud, and breach of trust.

At a Blue and White event, Gantz told supporters that the results are not what they wished for, but that the party will not waive its principals, and will continue to fight. He also cautioned that the results may still change.

Lieberman has stated that Yisrael Beiteinu will wait for the final results before evaluating the situation. "Everything we said before the election still holds," he said. "As far as our fundamental position goes, there will be no change. There will be no new election."

Ahmad Tibi, one of the leaders of the Joint List, castigated Blue and White following the initial results, stating they are indicative of a failure on the centrist party's side and its racial statements against Arabs. "We will make every effort to block the establishment of a government headed by Netanyahu," he said.

Over 4,000 people voted at the 18 special isolated polls set up across the country for those who are in self-quarantine as part of the country's efforts to curtail the spread of coronavirus. People arriving to vote reported disorganization and long lines, with some giving up on voting altogether. In some polls, the national voting committee decided to extend the voting window by two hours due to the lines.

Final results for the regular poles, which account for 95% of votes, will be published by Tuesday night. Final results including double envelopes—accessible polls and polls located on military bases, in hospitals and prisons, as well as the diplomat votes sent from abroad—will be published by Wednesday night.