Coronavirus
With 76 Corona Cases, Israeli Ministry of Health Expands Restrictions
As the police sets up teams to make sure potential carriers stay at home, gatherings of over 2,000 have been forbidden
The number of overall coronavirus (Covid-19) cases in Israel has risen to 76 as of Wednesday morning, despite three patients already recovering. Of the active cases, 63 are hospitalized, seven are currently being processed at hospitals, and three are at home. Patient number 71, a man in his sixties that was confirmed to be carrying the virus Tuesday, became the second coronavirus case in Israel with an unknown origin of infection. Among the newly sick is a nine-year-old who recently returned from Madrid.

Tuesday evening, the Ministry of Health tightened previous restrictions limiting gatherings, reducing the cap of 5,000 people to just 2,000. The number is subject to change as the situation evolves, the ministry said. People displaying symptoms are forbidden from visiting nursing homes or accompanying patients of any kind, and the general public is encouraged to limit visits to hospitalized people and the elderly.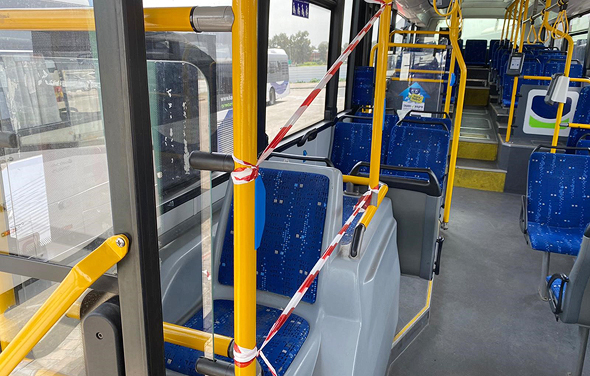 Israel: passengers are not allowed to seat near bus drivers. Photo: Lior Gutman

The health ministry has set up a joint task force with the Israeli police in an attempt to limit the spread of the virus, with teams composed of policemen and ministry inspectors. As of Tuesday evening, police databases will contain information on all those returning from outside of Israel, to make sure everyone is adhering to the mandated self-quarantine. As of Monday at 8 p.m., all Israelis returning to the country are required to enter a 14-day quarantine at home. Tourists are only allowed to enter if they can prove they are able to seclude themselves. As a result, Israel Railways Ltd. announced it will shut down the Ben Gurion International Airport station as of Wednesday morning.

The Israeli military has started recruiting reserve forces as a result of the coronavirus crisis. Around 100 people were called in in recent days to boost Israel's national emergency service Magen David Adom. Some 70 more people are now being called in to prepare a future educational program for the Home Front Command. The Ministry of Defense announced Tuesday it has started to buy medical equipment, such as masks and gloves, hazmat suits, defibrillators, medical monitors, and large amounts of disinfectants for the army, valued at an estimated NIS 50 million (approximately $14.1 million).

Amir Kurtz, Omri Milman, and Lior Gutman contributed to the reporting.