This Startup Lets You Take a Bite of Distant Lands, One Popular Snack at a Time
Tel Aviv-based CandyBandy develops an online marketplace for selling, buying, and exchanging exotic treats from around the world
We all have that one snack that we had on vacation somewhere that got us completely hooked. It could be a Japanese matcha Kit-Kat, a Thai crispy silkworm snack, or the popular Israeli savory peanut butter-based treat Bamba. With the coronavirus (Covid-19) crisis making your next trip feel like a distant dream, one Israeli startup, CandyBandy Ltd., decided to give people everywhere a taste of distant lands from the comfort of their own homes.

Tel Aviv-based CandyBandy develops an online marketplace for exotic treats from around the world. The online service that connects users from different countries, allowing them to buy, sell, and exchange local candies and snacks form their homelands. The system can also match users with specific treats according to their preferred flavor profile.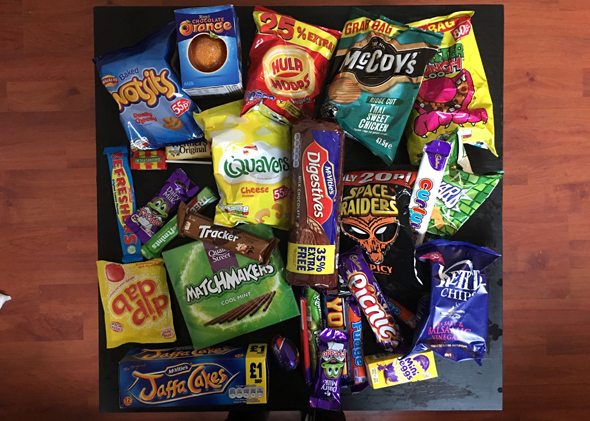 A package sent through CandyBandy from the U.K. Photo: CandyBandy

CandyBandy launched its service last year and already has thousands of candy-loving users, founder and CEO Ronen Kiddo said in a Monday interview with Calcalist.

Kiddo said he came up with the idea for CandyBandy after returning from a vacation in Barcelona with some alfajores cookies he bought forhis girlfriend at the time. The cookies were so good that when they ran out, Kiddo tried hard to find them online for purchase, but to no avail. He also tried to get people from Barcelona to send him the cookies, but an infrastructure to facilitate such a transaction was lacking. "I remember I thought that it was crazy that the internet did not have a place for trading local goods," he said.

Later on, Kiddo realized that not only can locals offer curious users better treats than they may have chosen themselves, but that experiencing foods and products from different places opens people up to the world.

While Kiddo could not quite pinpoint what treats are most popular on the website, he did mention goods from Israel, Japan, Mexico, the U.K., and Canada are in high demand on CandyBandy.