The Israeli Unicorn Stiffing its Employees
On paper, Tel Aviv-based artificial intelligence company InfiBond is valued at $1.25 billion; in reality, its employees have yet to be paid this year
In early February, Yoram Kraus, founder and CEO of Tel Aviv-based artificial intelligence company InfiBond Ltd., summoned his employees to the company's well-equipped offices and announced that due to liquidity problems, their January salaries would not be paid on time. Now, a month and a half later, Kraus' weekly update meetings have turned into daily meetings, and the employees have yet to see a dime.

Founded in 2014, Infibond, which has undergone several pivots throughout the years, remains one of the local tech sector's most enigmatic companies. It never released a product nor announced a funding round. And yet, from various reports and legal documents pertaining to several lawsuits currently carried out against it is Israeli courts, it appears Infibond is a member of the exclusive unicorn club, with an alleged company value of $1.25 billion.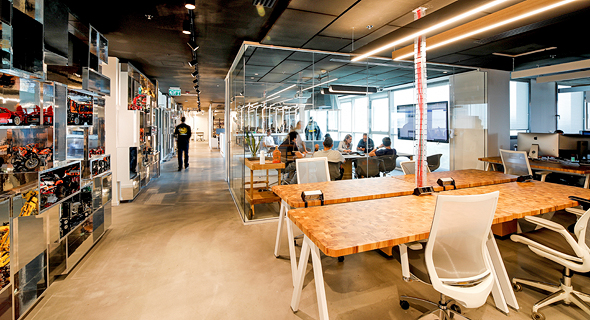 InfiBond. Photo: Kfir Ziv

Infibond's original idea was to create a virtual character that will serve to immortalize social media users after they die. Since then, Infibond's product has gone through at least six reincarnations, according to one person familiar with the company who spoke to Calcalist on condition of anonymity. In 2016, Infibond announced that it was developing an online platform that will analyze mobile phone data to glean psychological insights into users. In a video released by Infibond at the time, it said that the insights would be used to launch a new social network that will "change the rules of the game." A 2017 video the company published on its YouTube channel demonstrated a novel use for those insights: now, they were going to be used to generate a personalized digital personal assistant, a Siri or an Alexa equivalent that sees deeply into the user's soul.

Today, Infibond's website boasts that the company is "redefining the future of artificial intelligence by embedding the personality dimension into human-machine interaction." According to the site, these psychological insights are now being used to deliver personalized services in the fields of health, finances, and e-commerce. In a video uploaded to Infibond's YouTube channel in February, Nurit Mor Cohen, whose role in the company is defined as "chief of staff," announces that Infibod has been successful in "cracking the secret of who you are and transmitting it onto the digital world." She further said that Infibond has reached the Holy Grail of AI, processing human thinking and feeling into an algorithm, stating it was an effort the field's top minds have attempted to undertake for decades.

Conversations with four people close to the company, however, generate a different picture. Infibond, these people told Calcalist, has never actually presented a finished product. "One of the products is in the final stages of development and has gone through several proofs-of-concept, some successful and some not," one person said. While that person declined to identify the product, he did reveal that it is a product intended for the defense sector, representing yet another pivot for the company.

The big personality behind Infibond is Kraus, a former real estate developer who filed for bankruptcy in the late 1990s. Throughout the years, Kraus has managed to attract several familiar names to the company. According to Infibond's website, Sarit Kraus, head of the artificial intelligence department at Israel's Bar-Ilan University, is the company's director of AI. Erez Tsur, co-chairman of Israel Advanced Technology Industries (IATI), is a former board member. Tsur declined an interview with Calcalist and said he had not been part of Infibond for over a year. Sarit Kraus also declined an interview.

Infibond's baffling product is not the biggest mystery surrounding the company. Another question mark has to do with the amount of financing the company has seemingly received. According to Tel Aviv-based research firm IVC Research Center, Infibond has raised $19 million across two rounds. According to Pitchbook data, as of January, the company has raised $68 million at an astronomical valuation of $3 billion. In an audio recording reviewed by Calcalist, Kraus can be heard announcing to his employees last month that he had closed a new investment round of $100 million.

The lawsuits carried out against Infibond and Kraus list different amounts. In an August 2018 suit, consulting company Tel Aviv Capital Tech alleged that Infibond has failed to pay a 5% commission on a $100 million investment Tel Aviv Capital Tech helped facilitate according to a company valuation of $1.25 billion. The lawsuit states the investment was made by Hong Kong-based billionaire Richard Li, son of business magnate Li Ka-Shing. The investment, according to the suit, was part of a funding round worth $300 million in total. One of the appendices to the suit contains what appears to be investment documents, which show that Richard Li's firm sought participation in a $220 million series C funding round raised according to a company valuation of $1.25 billion. In its answer, Infibod said that investment ended up amounting to only $15 million.

According to governmental database the Israeli Companies Registrar, Infibond has no registered foreign stakeholders. This calls into question whether the company had received a funding infusion at all. According to the registrar, Kraus holds a 75% stake in Infibond, and co-founder and Chief Technology Officer Yaron Cohen Coriat holds an 8.7% stake. Another stakeholder listed is Aviel Dahan, who owns 8.7% according to the registrar. Dahan is not mentioned on the company's website, but on his personal Linkedin account he self-identifies as a co-founder of Infibond, and writes that he worked for the company between January 2014 and January 2015. The rest of Infibond's shares are divided between several investors, most of whom hold less than a 1% stake, and none of whom are the foreign backers listed in any of the lawsuits against the company.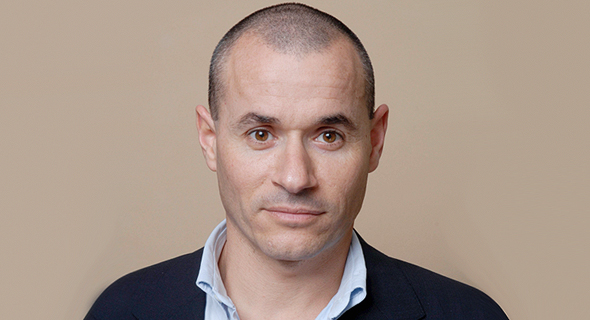 Yoram Kraus, founder and CEO of InfiBond. Photo: Uzi Porat.

In the Tel Aviv Capital Tech lawsuit, it is alleged that Infibond has spun-off an AI and pharmaceutical subsidiary in 2017. Dubbed Yoo-Mi, the subsidiary allegedly incorporated in the U.K. and opened a Swiss bank account. At some point, the lawsuit claims, Yoo-Mi announced it was going to raise capital by launching its own cryptocurrency. This initial coin offering, however, never materialized.

Of the 100 employees who worked at Infibond a few weeks ago, today only 50 have remained. The company still leases sprawling, smartly furnished offices in Tel Aviv's Ramat Hahayal neighborhood, but the remaining employees are coming in sporadically and work mostly from home. In addition to two months of salaries in arrears, their Ten Bis lunch cards have been invalidated, and other perks—such as the masseuse that used to come regularly into the office —have been cut down.

Kraus, on his end, continues to broadcast optimistic messages in the daily update talks he holds with his team. For two months now, he has been telling them about a deal that is nearing closure with a Turkish company. In late February, he told employees that they are about to have most of their salaries paid as the company had just received confirmation of a $100 million investment. In the audio recording previously mentioned, Kraus can be heard explaining to employees that the company met hard times in December after it did not receive a sum of money it had been expecting. "The easiest solution would have been sending everyone home," he said. "By mid-December I have invested $6 million of my own money into the company, and since then, every month you are here—working or not working—is costing me another $1 million."

Kraus also addressed the possibility his employees would sue him. "Anyone who comes up with the idea to sue, I can tell you one thing: you can sue, but anyone who thinks they will get something out of it is mistaken. When they take apart this company, they will not find any money, because there is none." Kraus further pleaded with employees to remain, saying that many things are afoot and that the company is exploring all avenues.

Several people familiar with the company spoke about another incident in which the company delayed salaries, in 2018. Back then, employees received payment a week late. Another hint to Infibond's spotty history is a 2018 lawsuit filed against Kraus, in which three individuals alleged that Infibond had violated an agreement to pay them with company shares for their efforts to secure investments for the company. According to the suit, viewed by Calcalist, the three alleged that back in 2016, they secured Infibond a lifeline. At the time, Infibond urgently needed an infusion of cash, and Kraus and Cohen Coriat were working to secure a bridge loan at a steep interest rate.

In a recent interview with Calcalist, Kraus said that Infibond was negotiating an investment round when one of its would-be backers, a Turkish investor who had already signed all the paperwork, backed off the deal. This, he told Calcalist, led the company to announce layoffs in December. In January, Kraus told employees that those who want to stay could and those who don't can leave. "We are unable to pay salaries but are working to raise funds to pay them soon," he said.

"I'm not forcing anyone to stay," Kraus told Calcalist. "I give daily updates, and we are doing everything we can to solve this. Those who stay must understand that it could be a matter of weeks or days. I hope to pay by the end of this month. There is an investment bank that is expected to back us, and we are working on a bridge loan of $10 million. We are bending over backward to raise funds. We have memorandums of understanding and ongoing projects and three signed contracts, but no cash flow."

Kraus told Calcalist that the company had raised $40 million to date from private investors. "I've put a lot of money into the company. Richard Li and a group of Asian investors gave us $8 million. Our latest round was raised according to a $1.25 billion valuation," he said, adding that all of the investment had been properly reported.

Kraus contradicts the notion that Infibond has gone through multiple products and pivots. "That is not true," he said. "Seven years ago, we launched a product that we used to collect user data, and within a year, we had 5.5 million users." Kraus is referring to an application Infibond has mentioned repeatedly, but cannot be found anywhere today. According to him, that application has since served as the base for several products.

The people familiar with the company describe Kraus as an unusual person who has the ability to attract new talent despite Infibond's repeated crises. "Yoram is not a typical man," said a person close to the company who spoke to Calcalist on condition of anonymity. "He is mechanically optimistic. If the ship is sinking, he would say, 'we are almost at the harbor.' He sees himself as Steve Jobs, and at times of crises, it becomes problematic. He is persuasive."