Corona Q&A
The Impact of Coronavirus on Tech Won't Differ by Region, Says Optimove Exec
Amit Bivas, vice president of global marketing at Optimove, answered six questions about the Covid-19 crisis and its effects on the Israeli tech sector
The impact the coronavirus (Covid-19) will have on the tech industry will not differ by geographic location, according to Amit Bivas, vice president of global marketing at Israeli data-based marketing company Optimove, incorporated as Mobius Solutions Ltd.

On Sunday, Bivas answered six questions about the crisis and its effects on the Israeli tech sector.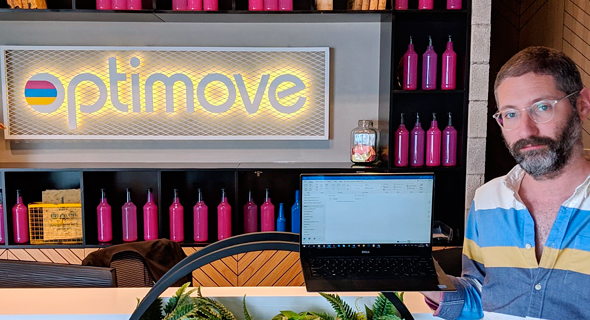 Amit Bivas. Photo: Optimove

How is your organization addressing the recent government directives?

In full alignment with guidelines provided by the regulator, Optimove employees were encouraged to work remotely. Employees who decide to work from the office were asked to keep the Ministry of Health guidelines and keep a distance of 2 meters from each other, and not have more than 10 employees in a single space.

Optimove provides its employees with tools and applications, as well as a single sign-on technology, so they can work securely from anywhere. Every employee also has a company-managed laptop that is configured for automatic security updates and endpoint protection. To make sure our employees stay productive regardless of their work environment, we use advanced collaboration software, including Slack, Zoom, Hubspot, Zendesk, Microsoft Teams, and others.

In what ways do you expect the coronavirus crisis to impact your organization in the coming months?

This is a first-of-its-kind situation, and nobody knows how things will unfold. As a company that services a variety of sectors and business verticals, we are sure that these turbulent times will have their impact. At the same time, we are doing everything we can to ensure continuity of business.

The health and safety of our employees and customers is our primary concern. We are taking measures to ensure the wellbeing of our employees while maintaining business continuity for our customers.

As the world becomes more reliant on digital connections, we understand the important role Optimove plays in delivering customer communications, nurturing and fostering customer relationships, and adapting customer experiences to the new reality of the last few months. Luckily, Optimove is in a position that allows us to continue investing and developing our product in such turbulent times, whilst assuring our customers will be able to continue using our product seamlessly.

How do you see the coronavirus crisis impacting the Israeli tech sector?

Covid-19's impact on tech won't differ by region. The vast majority of the tech sector is able to continue doing business, as this sector is familiar with remote work and has process and technology in place to enable it.

As with any business sector, there is no question about whether or not these challenging times will have an impact. The question is how big that impact will be.

We believe that the impact will differ based on specific lines of business and business offerings, and most importantly, on the levels of preparation and adaptivity to what is still to come.

What can be done to minimize the damage?

We believe that being proactive, and taking significant measures to adapt to these challenging times is key to minimize damage. At Optimove, we have shared with our employees guidelines on how to maximize effectiveness when working remotely. Also, we have guided our customer-facing functions to be in direct, ongoing contact with each of our clients to ensure their continuity of business. We truly believe that in joining forces with our clients, we will be able to navigate through these challenging times.

What are the top three rules to follow to endure the crisis?

The health and safety of employees and customers should be every business' primary concern. As such, the top three rules to follow are these:

Follow regulatory guidelines as they come, and make sure to keep safe and healthy

Be attentive and responsive to colleagues and customers and accommodate their needs as much as possible during these challenging times

Make sure to be flexible and do whatever possible to assure the continuity of business, both for us and for our clients

Do you believe the coronavirus pandemic will have a lasting impact on social, economic, and cultural norms?

Based on previous events of such nature, we know that they have a lasting impact. The better a company prepares and reacts to this ever-changing reality, the lower its lasting impact will be. Only a handful of businesses will be able to navigate through these times with no impact at all, the rest need to prepare for challenging times in both the short and long term.