Coronavirus
Israel's Employment Service Registers 5,000 New People Every Hour
Since the beginning of March, 180,000 Israelis have registered for unemployment as the impact of Covid-19 spreads throughout Israel, 7.5 times the number seen in February. Israel's national social security agency forecasts between 500,000 and 1.2 million new unemployed people due to the crisis
Between Wednesday 12 a.m. and 12 p.m., 60,000 Israelis registered for unemployment, making for a dizzying 5,000 people an hour, according to the Israeli Employment Service. Since the beginning of March, when coronavirus (Covid-19) started leaving its mark on the country's economy, 180,000 Israelis have registered for unemployment, 7.5 times the number seen in February.

Of the newly unemployed, 84% were put on unpaid leave, 11% were laid off, 2% quit, and 3% gave other reasons. Bituah Leumi, Israel's national social security agency, is now estimating 500,000 to 1.2 million new unemployed people due to the crisis, between 13% and 32% of Israel's non-self-employed workforce. This is a big jump from the beginning of the week, when the agency was expecting just 200,000 new unemployed. Every 100,000 people registered for unemployment benefits cost Israel NIS 550 million on average. Until the start of the crisis, the agency supported 80,000 people a month on average. Israel's Ministry of Finance is already expecting to see income from taxes drop significantly for 2020 as a result of the crisis.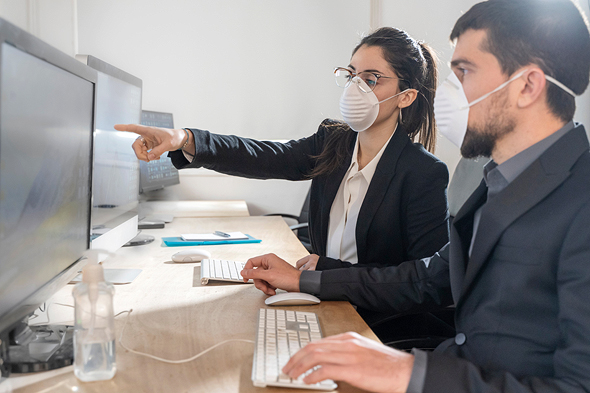 Office workers weaing masks. Photo: Shutterstock

Of the newly registered, 17,300 people belong to the general or no experience category, 14,500 worked in education, 11,700 in sales, and 7,600 in the restaurant, catering, and events industry. The following sectors, all with over 3,000 unemployed, are hospitality and tourism, administration, customer services, security, accounting and finance, and manufacturing and industry.