Coronavirus
Israel Faces Rise in Covid-19 Cases With Only an Interim Government
The number of confirmed coronavirus cases in Israel has reached 1,656 on Tuesday morning, with 31 people in critical condition and on ventilators
The number of confirmed coronavirus (Covid-19) cases in Israel has reached 1,656 on Tuesday morning, according to the Israeli Ministry of Health. Of those, 31 people are in critical condition and on ventilators, 1,331 are displaying only mild symptoms, and 41 have recovered. At the background of the evolving pandemic is the country's political deadlock. Israel is still run by an interim government headed by Benjamin Netanyahu as negotiations between the two largest parties, Likud and Blue and White, have failed to reach a satisfying conclusion.

The government is expected to approve further restrictions on Tuesday. The new limitations will forbid people from leaving their houses except to go to work—if they are considered an essential worker—or buy food and medicine. Physical exercise or taking the dog out for a walk will be limited to 30-50 meters from the residence. Public transportation will be limited even more, and perhaps even canceled, except for taxies, which will only be allowed one passenger. Netanyahu is expected to announce the restrictions at some point on Tuesday.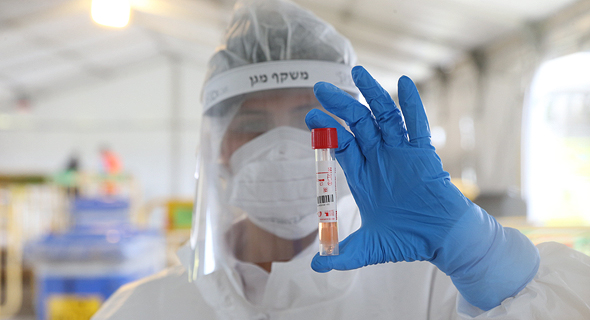 Coronavirus test in Tel Aviv. Photo: Shaul Golan

The decision, which comes after a meeting that lasted several hours, was a compromise. The Ministry of Health argued for a full seven-day lockdown, while the remaining ministers in the meeting objected on account of the potential damage to the economy, already struggling under the current restrictions. A spokesperson for the Prime Minister's office said that if the restrictions are tightened further, citizens will be given time to prepare and buy essentials first.

Moshe Bar-Siman-Tov, director-general of the health ministry, warned that ministry scenarios forecast several hundred cases that will need ventilation in just a few weeks, and added that if no action is taken, that number could reach thousands. On Monday night, Israeli news outlet Ynet reported that dozens of ward managers and clinic managers are demanding Bar-Siman-Tov be replaced. The Israeli healthcare system needs to be headed by a professional, a doctor with clinical understanding and expert knowledge of the system on the ground, they wrote in a letter, adding that Israel has neglected its public healthcare system in recent decades.