Zoom's Latest Competitor Hails From Tel Aviv
The Tel Aviv research and development center of U.S. cloud communication services company Vonage has developed a free remote conferencing service intended to rival Zoom
The Tel Aviv research and development center of U.S. cloud communication services company Vonage Holdings Corp. has developed a free remote conferencing service intended to rival Zoom Video Communications Inc., the former announced Tuesday. The company's new conferencing service will be free of charge and does not require downloading the Vonage's app or creating an account.

Since the coronavirus (Covid-19) pandemic, Vonagey has reported a dramatic increase in demand for its video services. Israel's national emergency medical service Magen David Adom has already begun using Vonage's new service for conference calls between suspected Covid-19 patients and doctors, according to the company's statement.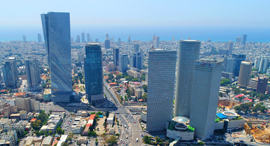 Tel Aviv's skyline. Photo: Shutterstock
New York-listed Vonage provides communication services to businesses and organizations, and reports revenues surpassing $1 billion annually. Among its customers are Uber, WeWork, Airbnb, and Dutch national carrier KLM. Founded in 2001, the company employs 2,000 people.