Corona Q&A
Businesses Should Use Government's Offer to Help them Furlough Employees, Says Exec
Guy Bloch, CEO of Tel Aviv-based on-demand delivery startup Bringg, answered six questions about the Covid-19 crisis and its effects on the Israeli tech sector
Employees must be protected, and businesses should utilize the government's help to furlough employees, said Guy Bloch, CEO of Tel Aviv-based on-demand delivery startup Bringg Delivery Technologies Ltd. In its attempt to curb the spread of the coronavirus, the Israeli government last week announced stringent measures, including a ban on gatherings and a forced shutdown of all nonessential businesses, grinding the economy to a temporary halt.

On Tuesday, Bloch answered six questions about the crisis and its effects on the Israeli tech sector.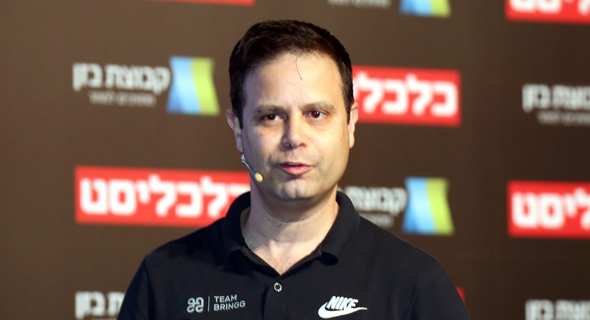 Guy Bloch. Photo: Yariv Katz

How is your organization addressing the recent government directives?

Even before the government directives were issued, we closed our office and allowed employees to take home everything in the office that would help them do their jobs better. We also have a diverse group of employees, not all of whom are Hebrew speakers, so we share updates on Whatsapp breaking down new government directives and resources in English.

In what ways do you expect the coronavirus crisis to impact your organization in the coming months?

With delivery demands rising as the crisis continues, we expect there to be more inquiries by small and medium-size enterprises (SMEs) that are vulnerable. Many of these smaller businesses don't have the same sophistication to adapt to growing delivery demands, repurpose existing staff to pickers and delivery drivers, and offer features such as contactless delivery. We are already in very advanced stages of releasing a solution to help SMEs and we will be giving more details in the very near future.

How do you see the coronavirus crisis impacting the Israeli tech sector?

It is going to have a very negative impact financially for most businesses and many employees who will at the very least see their contracts being paused until the crisis starts to pass.

What should be done to minimize the damage?

Employees must be protected. Ultimately, if a business is in a sector that has been completely shuttered by this (i.e. tourism, entertainment) they should simply utilize the government's offer to help them furlough employees. However, for other businesses that still can operate in this environment, it is up to owners to think out of the box in terms of adapting their business model and repurposing employees. elivery is a great example of this. We pioneered Panera Bread's hybrid delivery model, which allowed them to repurpose store employees for deliveries and that's exactly what needs to be done across restaurants and smaller grocers right now to save jobs.

What are the top rules to follow to endure the crisis?

Be stoic. Only focus on those things that you can control and don't worry about what you can't.

Keep in mind that this too shall pass, even the worst downturns are temporary.

Seize the opportunity. Reconnect with family and friends, learn something new, appreciate the time with your family and friends.

Create a sense of normal. That means while some procedures are going to be adapted, it is also important to keep a sense of business as usual, it brings stability to employees and keeps businesses functioning as normal too.

Do you believe the coronavirus pandemic will have a lasting impact on social, economic, and cultural norms?

People will be more aware of personal hygiene, they will be more quickly connected to others online through platforms such as Slack and Zoom, and many will continue with habits formed in isolation, such as grocery, food and medical home delivery and using other remote resources they wouldn't have adopted before.