Coronavirus
With Five Deaths, Israel Tightens Coronavirus Lockdown
Israel currently has 2,030 confirmed Covid-19 cases, 37 of them in serious or critical condition. People are now forbidden from venturing more than 100 meters from their residence, barring essential workers and people shopping for food or essentials and providing medical assistance to those in need
Update 3:09 pm: the Prime Minister's office published an updated statement, notifying the public the aforementioned restrictions will come into effect at 5 p.m., and not 8 p.m. as previously stated. Public transportation barring taxis and employer-deployed shuttles will be reduced to 25% capacity. E-commerce is allowed for all types of shops, as long as packages are delivered by courier and placed outside the door. In addition to essential work, grocery shopping, some limited religious activity, and medical treatments, people are also allowed to leave the house to attend demonstrations and protests.

Coronavirus (Covid-19) has claimed its fourth and fifth victims in Israel on Tuesday night, one a 76-year-old man with pre-existing conditions and the other undisclosed as of yet. Two people died on Monday, and Israel's first death from the virus was recorded on Friday. As of Wednesday morning, Israel had 2,030 confirmed cases, with 37 of them in serious or critical condition. 371 people overall are hospitalized, and the rest are at home-quarantine or a corona hotel. Fifty-eight have recovered from the virus in Israel to date.

Also on the night between Tuesday and Wednesday, the government signed off on new restrictions, which will come into effect at 8 p.m. Wednesday and be valid for seven days. Barring essential workers, people are only allowed to leave their residence for short durations, and are only allowed to venture up to 100 meters away. Exceptions are made for children of divorced parents, who are allowed to shuttle between the two houses accompanied by one parent, and people shopping for food and essentials or providing medical assistance to those in need.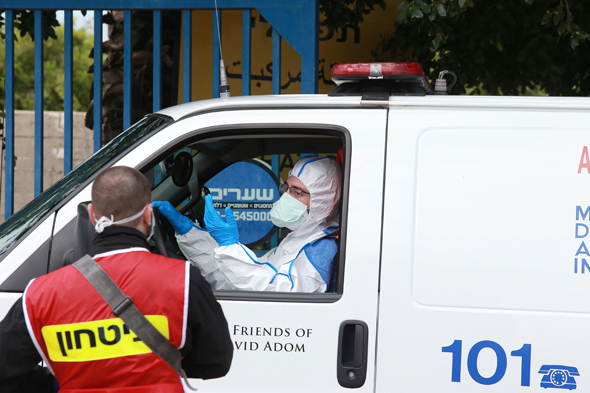 An ambulance taking a corona patient to Wolfson Medical Center in Holon. Photo: Avigail Uzi

Public transportation has been canceled almost completely: the only forms of such transportation allowed will be dedicated shuttles organized by employers, and taxis with only one passenger—who is to sit in the back with the windows cracked open. People with medical needs are allowed to be accompanied by an additional person sitting with them at the back. Synagogues and all other religious institutions have been ordered to close as well, except for ceremonial baths for Jewish women, which will be on an appointment basis.

Workplaces defined as essential that remain open are to measure temperature for all incoming people and only let those with a temperature of under 38 degrees celsius enter. Essential shops such as food suppliers and pharmacies are to remain open, but they are to impose a 2-meter distance between shoppers and allow just four people per cash register at the store at any given time. Other shops for home and hygiene essentials, including electronics, will operate on a delivery basis only, leaving packages outside doors. Schools are to resume online teaching Wednesday, the government having resolved an ongoing dispute with the teachers' union regarding the payment of salaries.