Corona Q&A
Consumers Are Relying More Than Ever on E-commerce Websites, Says Namogoo Exec
Chemi Katz, co-founder and CEO of ad-blocking SaaS startup Namogoo, answered six questions about the Covid-19 crisis and its effects on the Israeli tech sector
People have been heavily relying on e-commerce since the start of the Covid-19 crisis, according to Chemi Katz, co-founder and CEO of ad-blocking SaaS startup Namogoo Technologies Ltd.

In its attempt to curb the spread of the virus, the Israeli government last week announced stringent measures, including a ban on gatherings and a forced shutdown of all nonessential businesses, grinding the economy to a temporary halt.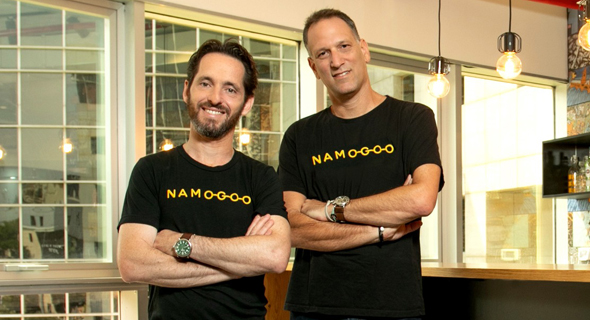 Namogoo co-founders Ohad Greenshpan (left) and Chemi Katz. Photo: Efrat Sa'ar

On Tuesday, Katz answered seven questions about the crisis and its effects on the Israeli tech sector.

How is your organization addressing the recent government directives?

Since the start of this pandemic, we have made it a priority to look out for the health and well-being of our employees. To support this we have aligned our policies with those of the Ministry of Health and have moved all employees around the globe to a work from home schedule.In addition to asking all employees to stay home, we have added a dedicated website and a slack channel and we keep employees up-to-date on how to keep safe and cope during this time. We also launched a survey to engage them on how they are feeling during this crisis, the challenges of working from home, and how we can best support them.

We have minimized all face-to-face meetings and use video conferencing for all meeting with employees, clients, and partners.

Finally, we are investing more effort into strengthening the personal connection with our customers as we support them during this period.

In what ways do you expect the coronavirus crisis to impact your organization in the coming months?

Our target market is e-commerce and online enterprises. The world is becoming more digital than ever. While many industries face logistical challenges, the digital nature of e-commerce also presents a ray of light for online retailers. Consumers are relying more on e-commerce websites to support them in getting the goods and services they need.

By eliminating unauthorized injected ads from disrupting over 20% of online shoppers and stealing them away, out technology is helping over 150 e-commerce companies today to maximize their digital investment and protect their revenue at a time they need it most. We are committed to supporting the e-commerce sector and helping it to not only survive this period but also be in a position to thrive and emerge from it successfully.

How do you see the coronavirus crisis impacting the Israeli tech sector?

Of course, a slowdown could be expected depending on how long the pandemic lasts. But with many Israeli technologies delivering SaaS solutions, much of our workplace culture is flexible, and our employees are perfectly capable of working from home and if we stay focused and support our staff in adapting to this new reality, Israeli tech firms can minimize the impact and come out of it in better shape than most.

What should be done to minimize the damage?

First and foremost, support communication and alignment across the organization by giving employees the tools and processes they need to collaborate and contribute from home, and by giving them the support to work flexibly so they can support their families and balance life and work.

What are the top three rules to follow to endure the crisis?

Enable your employees to work flexible schedules, and keep communication flowing on all channels to keep them updated on company guidelines. Keep morale up with remote happy hours, yoga and other fitness activities, and other social events via video conferencing.

Set up proactive communication initiatives to engage and support your customers and partners. Let them know the different steps you have taken so they can count on your support throughout this period, and be an advisor to help them uncover opportunities to improve business results.

Share value with the rest of your industry and lend support wherever possible. This can be by offering businesses the opportunity to trial your solution at no cost during this pandemic, as well as sharing knowledge that can help businesses understand the market and make better decisions.

Do you believe the coronavirus pandemic will have a lasting impact on social, economic, and cultural norms?

I believe as a society we have increasingly become more digital-savvy and we spend more time online or on our mobile devices. Events like the Covid-19 crisis will only result in even more people adopting and adapting to technologies to meet their needs. This is especially true for e-commerce brands where both first-time consumers and existing ones will rely on them to meet their needs and are much more likely to continue buying from them in the future. This presents many businesses with an opportunity to bring new generations of consumers into the digital era and build long-lasting customer relationships.