Coronavirus
Medical Staff Left Vulnerable at Forefront of Coronavirus Fight
Health care workers are at significant risk of contracting Covid-19, with authorities across the world late to react to pleas for protection
Medical staff are at the forefront of the fight against the coronavirus (Covid-19) pandemic, which inevitably also puts them at major risk to contract the disease. Over 1,300 medical personnel were infected in Wuhan, the Chinese city where the global coronavirus outbreak began, according to the Chinese Centre for Disease Control and Prevention (CDC). That led to authorities to send in 42,000 doctors and nurses to Wuhan. In addition, Chinese authorities also began using new strategies and equipment to protect medical staff, the result of which according to the CDC was a complete elimination of additional infections among healthcare providers.

Medical staff are vulnerable in other centers of outbreak as well, with the New York Times reporting Tuesday that 14% of those infected in Spain (approximately 5,400 people) were working for the local health system. One of Spain's biggest medical centers, Hospital Universitario La Paz in Madrid, saw 6% of its staff (426 people) infected with the virus. According to the same report, 8.3% (2,629 people) of healthcare workers in Italy have been infected, with over 30 medical staff passing away due to Covid-19. In France, 490 healthcare providers have been diagnosed with coronavirus.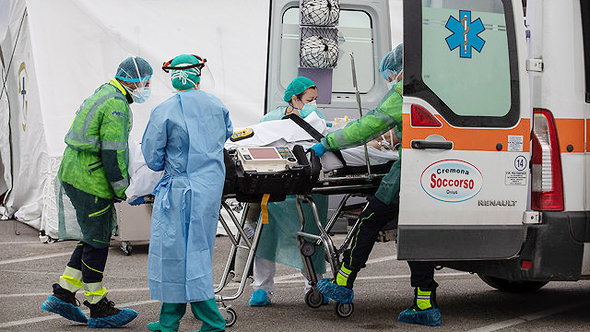 Medical staff helping a corona patient in Itay. Photo: Getty Images

The current situation in Israel is not as serious, but according to numbers released by the Ministry of Health on March 21, 42 medical staff have been diagnosed with coronavirus, while 3,030 healthcare providers, including 814 doctors and 893 nurses, were in quarantine. The number has increased since, with Calcalist reporting on Wednesday that 12 more medical staff were infected at the Hadassah Medical Center in Jerusalem, and 421 members of staff were in quarantine.

"Protection is crucial," Gabi Barabash, former CEO of the Ministry of Health, told Calcalist on Wednesday. "We are talking about a very contagious disease. The only way for the staff to provide care for the sick is with protection. This is mainly a morale issue as you expect that when you are being sent into battle you will be given the best means so that you won't get hurt."

Doctors and nurses have also been infected with Covid-19 while delivering what they thought was the standard treatment. "We admitted a patient and after several checks it was clear that the initial reason for which she was admitted was wrong and that she has some viral disease," a doctor at HaEmek Medical Center in Afula, who is currently in quarantine, told Calcalist on Wednesday. "We took a throat swab and were told the following day that she has coronavirus. We weren't protected properly and had been working as usual. The guidelines have since changed and everyone in the department is now working with a mask, gloves, and robe."

The vulnerability of medical staff during pandemics is not unique to coronavirus. According to a report by the World Health Organization (WHO), which analyzed medical staff during the Ebola outbreak in Africa between January 2014 and April 2015, approximately 4% of those infected were healthcare providers. Of the 815 that were infected, 500 died.

Medical staff were also among the most afflicted during the SARS and MERS outbreaks, different species of coronavirus. The MERS outbreak in 2012 infected 2,519 people according to WHO, mostly in Saudi Arabia. Medical staff made up a quarter of those infected, with 34.3% of all those with the disease passing away.

The SARS outbreak began in China in 2002 and quickly spread to other countries. According to WHO, 8,098 people were ultimately infected, with 774 dying as a result (9.6%). Medical staff were once more at the forefront, making up more than a fifth of those infected (21%).