Coronavirus
Israeli Health Ministry's New Covid-19 Tracking App Malfunctions
Location-based mobile app HaMagen, introduced to help curb the spread of coronavirus, wrongly informed users of being in the vicinity of a person infected with the disease
The Israeli Ministry of Health's new coronavirus-fighting app has malfunctioned, wrongly informing users that they have been exposed to the virus. On Sunday, the ministry announced that a bug in its location-based mobile app HaMagen (Hebrew: the Shield) misinformed users that they have been in close proximity to verified Covid-19 patients.

The app uses a phone's location history over the past 14 days and cross-references it with data from the epidemiological investigations of existing cases to determine if close contact was made. According to the ministry, the use of the app is voluntary and anonymous, letting users decide whether to report exposure to the health ministry, without transmitting the data to any third parties.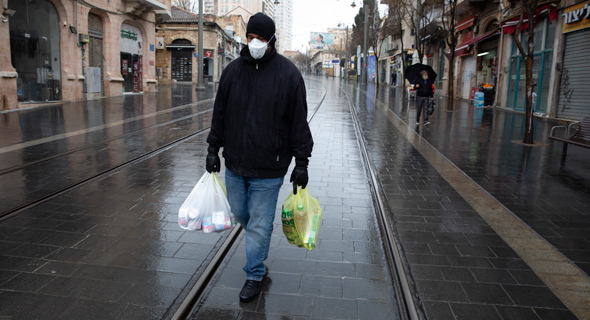 A man walking with groceries in an empty street in Jerusalem. Photo: Amit Shabi

According to the ministry, the app has been downloaded over one million times since it was introduced last week.

"We are working around the clock in order to fix and improve the app," the health ministry said in the announcement. "In the meantime, it is recommended to use discretion and if you were notified of being in a time and place in which you weren't you can click on the text reading 'mistake, I wasn't there' and continue with your life."