Coronavirus
Israel Shelves Plans to Tests Supermarket Shoppers for Covid-19
The pilot was intended to be conducted voluntarily and, should it prove successful, be expanded to additional stores
Fearing heavy crowds, Israel's Ministry of Health decided to postpone, until further notice, its plans to conduct a pilot for free coronavirus (Covid-19) tests in selected supermarket stores on Monday, after details were leaked to the press, according to letters sent to the stores. The pilot was intended to be conducted voluntarily and, should it prove successful, be expanded to additional stores.

One person familiar with the matter who spoke to Calcalist on condition of anonymity said this was the first time when Israel intended to conduct random tests, as up until now, only those who were in close proximity to confirmed patients or have exhibited symptoms were tested.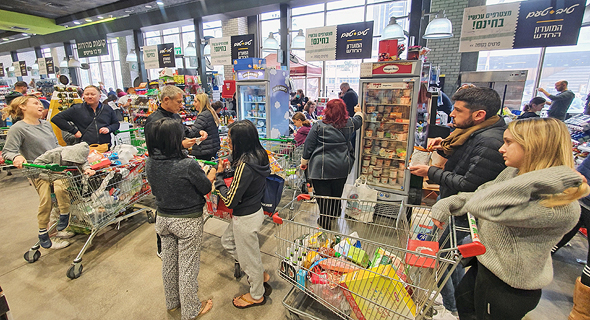 Super market chain Tiv Tam packed in Tel Aviv neighborhood, Ramat HaHayal. Photo: Dana Koppel

Supermarket stores were selected for the pilot, being among the few public establishments still accessible to the public, under Israel's current lockdown regulations.