Israel Greenlights Coronavirus Blocking Sticker Pilot
The 3D-printed sticker, developed at Israeli research university Technion, is made up of nanometric fibers coated with disinfectants and is meant to enhance the containment of nanoparticles and effectively neutralizes viruses as they touch the mask
The Directorate of Defense Research and Development (Mafat) has greenlighted a sticker developed at Israeli research university Technion Israel Institute of Technology that attaches to surgical masks, adding an additional layer of protection against coronavirus (Covid-19), Technion announced Monday.

Called Maya, the 3D-printed sticker is made up of nanometric fibers coated with disinfectants and is meant to enhance the containment of nanoparticles and effectively neutralize viruses as they touch the mask, according to the statement.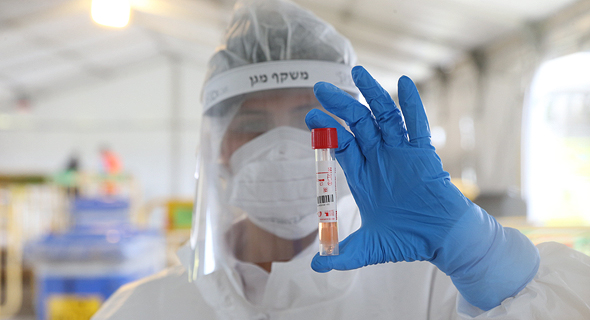 Coronavirus blood test (illustration). Photo: Shaul Golan

Israel's Ministry of Health has given initial approval for the use of the sticker by medical personnel and in the coming days, a pilot will begin at the Galilee Medical Center in Nahariya in northern Israel, to examine the sticker's effectiveness and see if it reduces the incidence of infection among medical teams.

The technology behind the sticker was developed by Technion professor Eyal Zussman in conjunction with the Galilee Medical Center.

The number of confirmed coronavirus (Covid-19) cases in Israel reached 4,347 on Monday morning, according to the health ministry.