Amid Coronavirus Scare, Israel's Kibbutzim Close Their Gates
Israel's cooperative agriculture communities are barring entry by non-residents in an attempt to keep out Covid-19
The Israeli government has yet to determine whether to place certain cities and communities on lockdown in an attempt to curb the spread of coronavirus (Covid-19). Some, more isolated communities have decided to take matters into their own hands.
Dozens of Israeli kibbutzim, a type of cooperative agricultural community common across the country, have decided in recent days to deny entrance to non-residents. These local initiatives are enforced with the aid of volunteers who operate the kibbutzim's entrance gates during the day and check if anyone wishing to enter are allowed to be in the area according to government restrictions.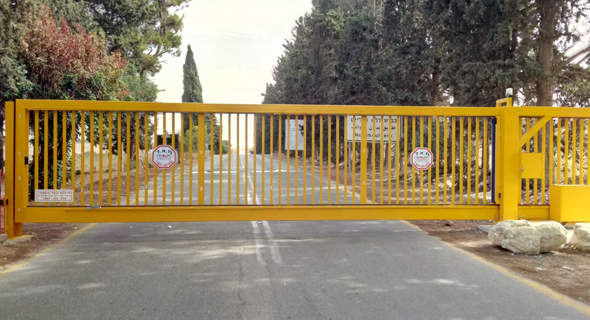 A Kibbutz's gate in the North of Israel. Photo: MAAD Elram

Beginning Thursday, Israelis are restricted from traveling a distance of over 100 meters from their home, barring certain exceptions such as medical need or the procurement of groceries and other essentials. Online commerce that includes door-to-door delivery is also allowed for all shops and restaurants.

The Upper Galilee Regional Council, which consists of 29 kibbutzim in the north of Israel, recommended last week to the kibbutzim under its jurisdiction to bar entrance by all non-residents. "Our recommendation is that you shut the gate and only allow in residents and people who have authorization like factory workers. We are trying to find the right balance between continuing life as usual and preventing as much as possible from anyone who doesn't belong to enter the kibbutz," Giora Zeltz, head of the Upper Galilee Regional Council, wrote in a memo, which was viewed by Calcalist.

Zeltz added that any orders of food, whether from supermarkets or restaurants, must be dropped off at the gates and disbursed by volunteers. Community members who have contracted workers for renovations or other projects were asked to put work on hold as not to encourage the entry of outside workers.

Zeltz acknowledged that there are legal issues regarding whether kibbutzim and other small communities are allowed to make their own decisions isolation rules. "I don't want to get into the legal argument, but we are not barring people entry but rather explaining the situation to them and they accept it. We are not standing there with guns and threatening anyone. The idea is to deny entry to people who have no reason to be there. I think that many cities and towns would do the same if they could."

In response to Calcalist's request for a comment, the Ministry of Justice said Sunday that it is unaware of the issue. The ministry declined to answer if the practice is legal.