Coronavirus
More Than 1 Million Israelis Are Now Unemployed
The unemployment rate in Israel, surpassed 24%, as the number of confirmed coronavirus cases in the country reached 5,591
More than 1 million Israelis are currently registered as unemployed, bringing the country's unemployment rate to 24.1%, according to data released Wednesday by the Israeli National Employment Service (INES). In March alone, 843,945 people registered for unemployment benefits, 89.7% of whom have been placed on unpaid leave due to the coronavirus (Covid-19) crisis.

The number of confirmed coronavirus cases in Israel reached 5,591 on Wednesday morning, according to Israel's Ministry of Health. Of those, 97 patients are in critical condition, 76 of whom are on ventilators. So far, 21 people have died from the disease in Israel, with the youngest being a 49-year-old woman with pre-existing conditions.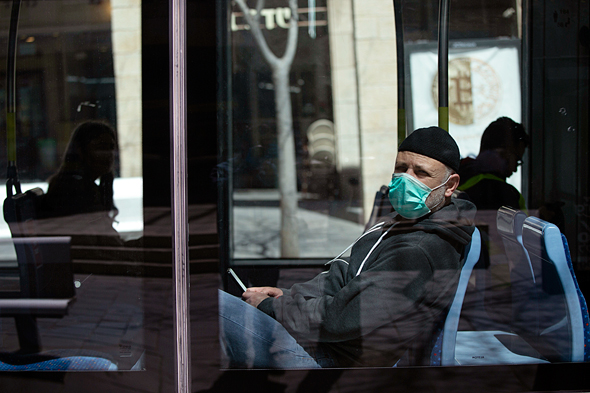 A man wearig a mask on a bus in Jerusalem. Photo: Amit Shabi

To date, Israel has conducted 66,461 coronavirus tests, and 226 people have recovered from the disease in the country.

The health ministry also released an updated breakdown of the cities with the most coronavirus cases. Jerusalem still leads with 781 cases, but ultra-Orthodox (Haredi) Tel Aviv suburb Bnei Brak is not far behind with 730 cases, despite its population being almost five times smaller than Jerusalem's. Jerusalem and Bnei Brak are home to Israel's largest Haredi communities in the country. The Haredi community in Israel was slow to adhere to lockdown and health regulations due in part to distrust of authority, less exposure to mass media and online publications, and adherence to religious code requiring gatherings for prayer and study. In the past few days, most Haredi religious authorities have issued strict guidelines to limit the spread of the virus, after it became apparent that the community was at high risk of infection. As a result of the rise in the number of Haredim that are diagnosed with the virus, the Israeli government is considering a potential curfew on certain ultra-Orthodox hubs with a high infection rate, Ynet News reported earlier this week.

Tel Aviv ranks a distant third with 292 confirmed coronavirus cases.