Coronavirus
Israeli Tech Companies Join Forces to 3D-Print Face Masks
The masks are made of biocompatible materials that allow for alcohol purification and sterilization so they can be used repeatedly rather than being disposed of after each use
Nasdaq-listed 3D-printer maker Stratasys Ltd., Tel Aviv-listed IT company Matrix IT Ltd., Netanya-based 3D printing startup Synergy R.M. Ltd., and Rosh HaAyin-based Su-Pad Ltd. will work together to create reusable protective face masks to protect medical staffs dealing with the coronavirus (Covid-19) pandemic, the companies announced Thursday. The masks will be 3D-printed using Stratasys' technology.

The 3D-printed masks can be disassembled, purified, washed, and restructured for multiple uses, rather than being disposed of after each use. The masks are made of biocompatible materials that allow for alcohol purification and sterilization and can be adjusted in size.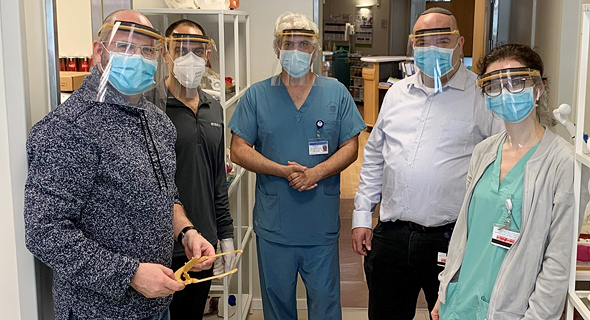 The masks. Photo: Zohar Tzipor

The companies stated they have already started to print thousands of these masks. Stratasys has also shared the design files with people in other countries so more masks can be printed worldwide. The masks have received approval from the Israeli Ministry of Health to be used in medical facilities.

Stratasys manufactures 3D printers and production systems for various industries, including aerospace, automotive, healthcare, and consumer products. The company is dually headquartered in Minneapolis, Minnesota and Rehovot, Israel since it merged with Israeli printer manufacturer Objet Ltd. in 2012.