Coronavirus Puts Haredi Suburb Bnei Brak on the Brink of Disaster
Israel's biggest ultra-Orthodox community languishes under lockdown with coronavirus leaving the already poverty stricken residents in dire straits
This prospect may have seemed unthinkable not long ago, but in light of the coronavirus (Covid-19) crisis, the ultra-Orthodox (Haredi) Tel Aviv suburb of Bnei Brak may be well on its way to a humanitarian disaster.
"If the coronavirus crisis continues for two or three more months, there will be famine in Bnei Brak," Haredi businessman Yitzhak Sheinfeld told Calcalist. According to him, the poverty stricken residents have no savings and are largely dependent on donations from fellow Haredi communities in New York. With these communities also suffering a tragic blow due to Covid-19, Bnei Brak's ability to recover from the pandemic is set to be determined by the extent to which the U.S. donation market will collapse in the coming months.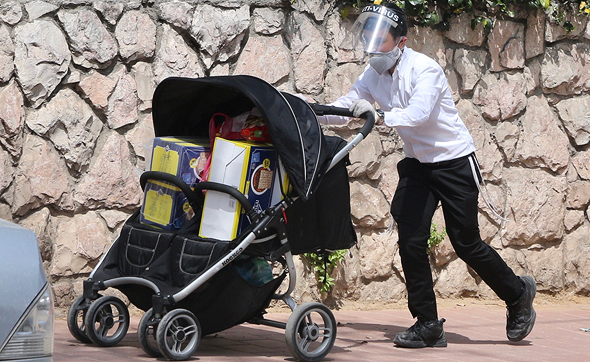 Shopping in Bnei Brak ahead of Passover. Photo: Yariv Katz
Bnei Brak has a population of 199,000 people crammed into 7.35 square kilometers, making it Israel's most crowded town. Bnei Brak has an average of 4.7 residents per household and its overpopulation means there is also an increased chance of getting infected at grocery stores and synagogues, catering to a greater number of people than those in other municipalities. "I do not have anywhere to buy food, as the police forbids me to leave Bnei Brak and I do not want to enter supermarkets in town Bnei Brak for fear of being infected," Bnei Brak resident Moti Stern tweeted last week after a curfew was put on the town, preventing residents from leaving.
According to figures released by Israel's Ministry of Health on Saturday, 1,061 cases of Covid-19 were diagnosed in Bnei Brak, second only to Jerusalem's 1,132, despite Bnei Brak's total population being almost five times smaller. The actual number of carriers is believed to be even larger, with Bnei Brak residents being slow to react to the health ministry's initial restrictions. It wasn't until March 18 that Rabbi Chaim Kanievsky, the 92-year-old spiritual leader of many in the ultra-Orthodox community, ordered the all religious educational institutions to shut down, weeks after all secular institutions in the country did so.
According to Israel's Central Bureau of Statistics, in 2017, the average salary for an employed Bnei Brak resident was NIS 7,000 (approximately $2,000 at the time) a month, well below the country-wide average of NIS 10,600 (approximately $3,000 at the time).
Of those Bnei Brak residents who were employed, 47% only made minimum wage or less.
"Bnei Brak is a town of big families with small apartments so it is difficult to stock up. People go to the grocery store every day,"
Sheinfeld said. "This is a poor city which always requires the streaming of money from abroad. People live hand to mouth using cash and do not have financial or food provisions."
It remains to be seen when the Israeli economy will resume normal activity, but for many in Bnei Brak what will actually determine the financial future is the economic recovery in New York and the magnitude of donations coming from across the Atlantic. "If there will be a financial crisis in the U.S. then the crisis in Bnei Brak will be more significant," Sheinfeld said. "Religious education institutions that collect money from abroad will nott be able to pay the salaries thousands of families live off."