BiblioTech
CTech's Book Review: a Thought-Provoking View on Big Tech Companies and Big Business in General
Verizon Media Israel general manager Lev Korostyshevsky on Tyler Cowen's "Big Business: A Love Letter to an American Anti-Hero"
Lev Korostyshevsky is the general manager Israel at Verizon Media. This is his pick for the best technology book he has read recently.

Title: Big Business: A Love Letter to an American Anti-Hero

Author: Tyler Cowen

Format: tablet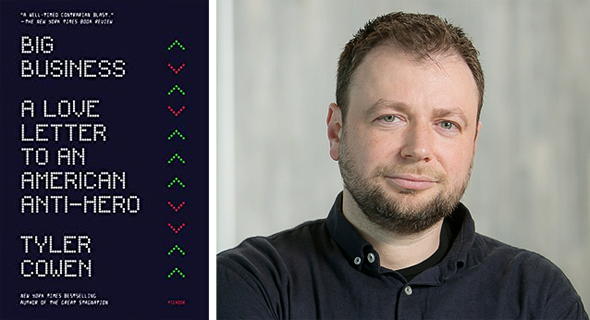 Left: Big Business: A Love Letter to an American Anti-Hero. Right: Lev Korostyshevsky. Photo: Tamar Danieli

Description: As major tech companies in America get increasingly criticized by the left and the right, Tyler Cowen, a professor of economics and a prolific writer, columnist, and a blogger, presents an original and thought-provoking view on big tech companies and big business in general.

Summary: The book addresses a number of critiques on big business: are companies more fraudulent than the rest of us? Do companies oppress workers through their economic market power? How monopolistic is American big business? Are big tech companies evil? Have the big tech companies stopped innovating? Does tech make us stupid?

Cowen discusses these questions, and many others, with open-mindedness, clarity and common sense. He presents compelling arguments against many critiques while acknowledging others.

Ultimately, the book argues that major U.S. companies have been extremely beneficial for society, and big tech has been particularly underrated.

Bottom line: If you are trying to understand the social and economical impact of big tech on the wider society, this book is highly recommended.

What I've learned:

Cowen highlights the importance of meaning, culture, and sincere social activism in the workplace. In doing so, he argues against Milton Friedman, one of the most influential economists of the 20th century, whose thesis was that the social responsibility of business is purely to increase its profits.

The book surveys the many virtues of big U.S. companies beyond just being a source of GDP and prosperity, for example, they are leading towards more social inclusivity, promoting and exporting better management techniques, and establishing high levels of trust and tolerance. One interesting section in the book talks about how workplaces could be considered a refuge and a safe space for many workers who have stressful circumstances at home.

Critique: The book does not present a convincing account of why big business is disliked across the American society.

Who should read this book: Anyone interested in the tech industry, public policy, and in privacy and social issues will find this book entertaining and thought-provoking.