Coronavirus
Israel Surpasses 9,000 Covid-19 Cases, Records 71 Deaths
On Wedensday, the number of people in severe condition in Israel reached 147, with 122 people connected to ventilators as the country prepares for total lockdown during Passover
Israel recorded its 71st coronavirus (Covid-19) death and saw a total of 9,404 confirmed Covid-19 cases as of Wednesday morning, according to the country's Health Ministry. The number of people in severe condition in Israel reached 147, with 122 of them requiring connection to ventilators. More than 800 people throughout the country have recovered from the disease.

As of Tuesday night and until 08:00 on Sunday, all public transportation services, as well as international passenger flights, will be halted. Until Friday morning, Israelis may not leave the community in which they live unless it is to buy food, medicine, or other essential products, or to receive essential services that are otherwise unobtainable in their area.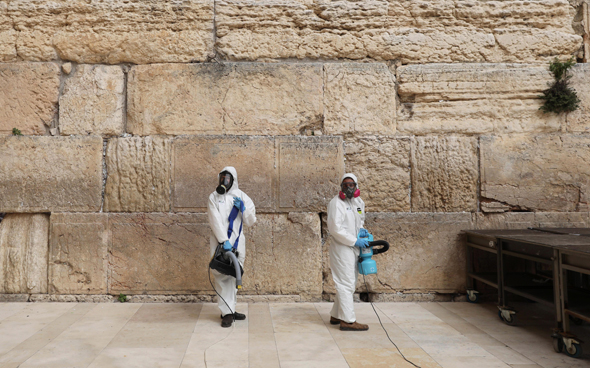 Coronavirus sanitizing at the Western Wall in Jerusalem. Photo: API

As the country prepares to celebrate Passover Wednesday evening, the government had approved additional regulations. From 15:00 Wednesday until 07:00 on Thursday, a complete lockdown has been announced in predominantly Jewish residential areas.

Included in the regulations is expanded enforcement authority for Israel Police which is now entitled to prevent a person from leaving their immediate residential area, require all persons outside their home to provide identification, and detain any person not meeting the new guidelines.

Health Ministry Director-General Moshe Bar Siman Tov signed a public health order requiring all persons outside their home to cover their mouth and nose with a mask. The order will take effect Sunday morning.