Will Coworking Spaces Survive Covid-19?
As the government guidelines began to decrease the possibility of working from offices, clients began asking their coworking space providers for discounts
About 13% of the office space in the Tel Aviv area is made up of coworking offices, many of which are currently struggling for survival. As the Ministry of Health guidelines began to decrease companies' ability to work out of their offices, clients began asking their coworking space providers for discount payments. Many companies that operate the workspaces have appealed to their property owners, to try to get some discounts they can then roll on to their clients.

One of the first clients to try and gain some leeway were the renters at the WeWork complexes in Herzliya and Tel Aviv, who collected about 200 signatures to demand a discount from the company because it was not possible to work in offices. But WeWork customers are now claiming that Israeli executives say they are subject to the company's U.S. headquarters' decisions and can't grant such discounts by themselves. According to a WeWork customer who spoke to Calcalist, he was offered a half-month discount in exchange for renewing the rental agreement, but owners of contracts signed for several months in advance have yet to receive a response.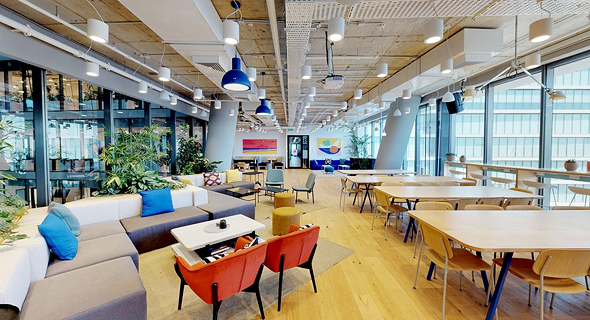 WeWork's co-working space in Tel Aviv. Photo: WeWork

According to Forbes, WeWork customers in California also claimed that the corporation had demanded they sign extended contracts in exchange for discounts or relief.

"We are not pigs, we understand that they are also suffering losses, but we heard that the government is helping them with municipal taxes, so we expect it to roll onto us as sub-tenants as well. The feeling is that the Israeli management is hiding behind the international corporation," that person said.

Other smaller coworking companies, such as Labs and Regus, use a different approach to solve the situation. Those companies provide calculated discounts to some tenants without making a sweeping decision. Some tenants report they have received benefits but are careful to keep it to themselves for fear of being harmed if the property owner is asked to do so by all the tenants.

At this point, most of the coworking companies have declared that they are still operating in one form or another, even if in practice, the offices are completely deserted. The policy towards renters is changing and covers the gamut between full exemptions from rent to no discounts at all.

In response to Calcalist's request for comment, a spokesperson for Russia's second-largest shared office space real estate company SOK said they "decided to go ahead and gave discounts to our renters so they could survive the next few months. At this point, the discounts were only given for the month of April, but we will consider extending the period."

Some coworking companies reacted to the pandemic creatively. Executives at shared office space company Mixer told its clients that it will transfer its full revenues to a fund that will help clients in need of financial aid due to the coronavirus (Covid-19) pandemic.

Some decided to close their complexes in April altogether and stop collecting payments. "From the moment we announced that tenants will not have to pay for the month of April, customers felt it was a lifeline," Eyal Reuven, the CEO of coworking company Dogether said in a recent interview with Calcalist. When asked why they did not take the approach to gives discounts to companies that sign extended contracts, Reuven replied that "one can ask for a commitment, but what company can commit at the moment? If you're already giving, then give to the fullest extent."

One of the big questions is how the industry will survive the crisis, and not just financially: will the old office work habits return to pre-crisis dimensions? Some companies that have been able to work efficiently from home may embrace the model, even if only partially. On the flip side, it is also possible that after a period of social disconnection, members of the complexes will seek to stay away from working remotely as much as possible.

A CEO of a local coworking company who spoke with Calcalist on condition of anonymity said he believes that after the crisis there will be mergers and acquisitions, in the local coworking scene. "WeWork has caught this in a bad time, there is a mess at the management level and they cannot make decisions at the local level, they are a corporation and depend on international management. It is important to differentiate the specific situation of WeWork that ended up in a crisis and the wider labor market." he said.

Robert R. Bukvić, the CEO of Rent24 GmbH, a Germany-based coworking space provider, said in a statement that at this stage it is difficult to predict the intensity of the crisis, but added that "now we are receiving new inquiries from companies that are looking for flexible solutions and want to avoid long-term leases."

In 2014, the Israeli coworking market was made up of WeWork, Regus, and homegrown Mindspace Ltd. All three offered less than 16,000 square meters of office space in the country. By 2016, the three had leases for around 43,000 square meters of Israeli offices. In 2018, WeWork and Regus alone had more than 60,000 square meters. By then, no fewer than 32 newcomers have joined the market.

According to estimates by the Israeli branch of real estate investment company CBRE Group Inc., co-working space offered in Israel now tops 250,000 square meters, with 95% occupancy in the final quarter of 2019.