Cybersecurity Company SafeBreach Raises $19 Million
The security simulation platform's CEO Guy Bejerano said the round was completed quickly due to market uncertainty and shifting security requirements as remote work takes root
Israel-based cybersecurity company SafeBreach Inc. announced Thursday that it has raised $19 million in a series C funding round led by Los Angeles-based OCV Partners. Hemi Zucker, managing principal at OCV, will be joining the company's board of directors on the heels of the move.

To date, SafeBreach has raised approximately $53 million. Some of the company's existing investors, including Sequoia Capital, Deutsche Telekom Capital Partners, DNX Ventures, Hewlett Packard Pathfinder, and PayPal also participated in the round.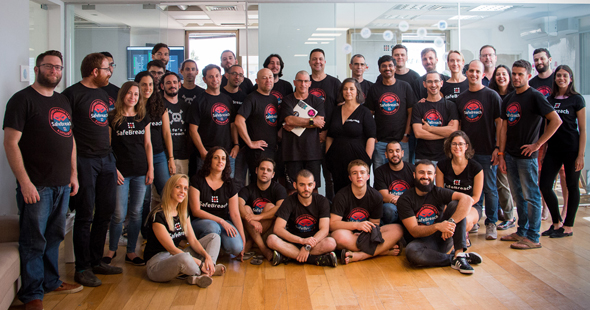 SafeBreach's Team in ISrael. Photo: Omri Shafran

Founded in 2014 by CEO Guy Bejarano and Itzik Kotler, the company develops a platform that simulates penetrations and cyberattacks on an organization's system and provides a visual interface for detecting risks and hacking pathways. SafeBreach employs approximately 50 employees, 33 in its Tel Aviv development center and the rest in Sunnyvale, California.

The round started in January and was completed in March, Bejerano told Calcalist in a phone interview from his California office. "We felt like we had to work really fast because of the sense of uncertainty regarding the future. The investors noted our growth and spoke to our clients," he said.

According to Bejerano, SafeBreach made several changes following the round. "We realized that it is no longer possible to market ourselves through physical conferences and have recruited a dedicated executive who specializes in remote marketing. Our clients are very large and they are coming to grips with the new situation where all employees are working remotely, shifting the very concept of cybersecurity. We have adapted to our clients' needs and changed our simulations to include work from home. I have a client with 100,000 employees who are working remotely now so we had to adapt to those scales," he explained. "We decided to cut back on employee recruitment, especially in the U.S., but have continued to bring the necessary people on board even at this time. Pessimism regarding market development is the right strategy under the current circumstances, he added."

SafeBreach will use the funds to accelerate sales and product development, address the growing needs of customers, and to form new partnerships in order to grow on a global scale, the company said. In addition, it said it plans to expand its product gallery to provide its customers with as broad protection coverage as possible.

SafeBreach counts as clients dozens of companies and organizations in fields including finance, health, manufacturing, communications, and retail. In the past year, the number of simulations performed on the company's platform has reached roughly 1.5 billion a month, according to company statements.

"The explosive growth in the number of cyberattacks, combined with the increasing complexity of managing information technology infrastructure creates a pressing need for continuous attack simulation. In addition, overstretched security teams need the ability to visualize their entire attack surface, receive guidance on remediation decisions, and ultimately reduce business risk," Zucker said in a statement.