Interview
Out of the Covid-19 Tragedy, a New Era of Design Will Rise, Says Former Ferrari Designer
Frank Stephenson, the man behind some of the world's most iconic vehicles, believes future designs will be better oriented towards personal hygiene and safety
Frank Stephenson is the one of the most prominent automobile designers of our generation. His signature is etched—at times, literally—on the dashboards of supercars like the McLaren P1, the Ferrari F430, and the Maserati MC12, vehicles normally seen parked in the driveways of Persian Gulf princes. His latest project, however, has to do with a product you are unlikely to find in any of those beasts on wheels: a child's car safety seat.

When I asked Stephenson whether he was surprised to be approached to design such an item, he burst out laughing. "Car designers are required to deliver the highest standard of design," he said. "Car design is not just about the exterior shell, it is also about the seat, the door handle, the headlights, the gas pedal and lots of other small details," he added. If you can design a speedometer, Stephenson said, there is nothing stopping you from designing a watch. The principles are the same in both cases, he explained, balancing between proportions and aesthetics, between form and function. "After you have honed these skills for 30 years, as I have, you can pretty much design anything."
Frank Stephenson. Photo: Tom Mannion

Indeed, Stephenson has designed pretty much anything you can think of. He has filled a long list of senior design roles, working with some of the shiniest brands in the business: from Ford, BMW, Mini Cooper, Ferrari, Maserati, Fiat, and Alpha Romeo, to McLaren, one of the ultimate superbrands of the automotive industry. Three years ago, Stephenson left to start his own studio.

McLaren is a very strong brand. Why did you leave the company?

"Everyone strives to design luxurious and exclusive vehicles, but by 2017 I had been there for a decade already and had completed designs for each segment of the company—sports cars, supercars, and hypercars," Stephenson said.

For those less familiar with the lingo, hypercars are considered elite vehicles manufactured in extremely limited editions that cost hundreds of thousands, occasionally even millions, of dollars. These models are considered the haute couture of the car world and inspire the design of the lesser categories.

Stephenson said he came to a point where he realised he did not want to keep doing the same thing. "A new model comes out every three years, it is a lot of fun, but it gets a bit repetitive, and I began thinking to myself how many lives am I impacting by working on these cars? Sure, people love them, but they do not really need them," he said.

"If I were younger, I would likely continue designing cars, it is fun and extravagant. But the truth is I have between five and 10 years before I'll want to do nothing. I decided to invest that time working on projects that have a real impact."

The coronavirus outbreak is a chance for making a real impact.

"These days of confusion and uncertainty provide the opportunity for radical innovation. It is an opportunity to ponder people's future interactions with their daily surroundings and map out new design challenges, for example, by increasing personal hygiene and safety levels. The tragic circumstances will bring rise to a new age of design. I believe the world will emerge from the crisis more sophisticated, intelligent and caring than it went into it."


Stephenson, 60, is the epitome of old school manliness in the style of Mad Men. He is a prim and proper gentleman, exuding just the right amount of confidence so that he does not seem boastful, while keeping a wild glimmer in his eye. He lives and works in London, the beating heart of the design world, but was born in Casablanca to a Spanish mother and an American father. He grew up in places like Istanbul and Madrid, went to school in the U.S. and is fluent in four languages: English, Spanish, Italian, and German.

Stephenson was 10 years old when he first laid eyes on a Jaguar—he remembers the exact date—and experienced an epiphany, but his love affair with motor vehicles began at 17 when he bought his first motorcycle to pursue a career in motocross racing. In his rookie year on the racing circuit, he won the championship for his age group and was signed to a contract. After five years, he was one of the top 10 riders in the world. Then, his father told him to quit. His father told him that, in racing, if you are not the best in the world then you are not good enough and no one will remember you, he said.

Stephenson obeyed. He began drawing cars in his free time and decided to enroll in the ArtCenter College of Design in Pasadena, one of the leading design schools in the U.S. During his studies, Stephenson's competitive streak overtook him. While in his sophomore year, he got an offer from Ford to fund the rest of his studies in return for a commitment to come work for the company when he graduates. Stephenson agreed and in 1991 began working at Ford's studio in Germany, where he learned a valuable lesson on the pecking order at car companies.

"In every design process, it is dangerous when a designer becomes too arrogant and decisive," Stephenson said when asked where he draws the line in the ongoing battle between designers and engineers. "Developing an industrial product requires a wide variety of experts in various fields, which inevitably requires compromise by all parties."

"Naturally, if an engineering solution critically hurts a product's aesthetics, it is the designer's obligation to either redesign the product to be more visually pleasing or dive into the engineering issue to try to find an alternative design solution. Once, while I was in the process of designing the rear spoiler of the Ford Escort Cosworth, the finance department told me to remove the middle fin to cut down on a small fraction of the manufacturing costs. It upset me because the car lost out both in terms of its performance and its unique design."

Stephenson moved over to BMW and in under three weeks created the prototype of the X5 model, which remains the foundation for the company's off road vehicle line to this day.

In 1999, Stephenson was chosen to redesign the company's MINI Marque, which kept the same exact form ever since entering the market 40 years earlier and was about to die out due to new licensing demands at the turn of the century. He was given no design limitations and the brief he received was to create a new interpretation of the MINI designed for the 21st century. Stephenson said, however, that the car had such a unique character that it would be sacrilege to design something entirely different from the original.

In order to rise to the challenge, Stephenson said he drew versions of the MINI as if it had evolved over the decades until he discovered a futuristic version that he liked. "The model I designed looked like the great-grandchild of the original vehicle—sharing the same characteristics, only stronger, faster and smarter. I wanted people to look at it and ask themselves where have they seen this before," he said.

The new MINI was unveiled in October 2000 and earned widespread accolades, from those who owned the previous model to the younger generation of car lovers and casual drivers. "It is my favorite out of all the cars I have designed because it successfully combines nostalgia for the past with excitement for the future," he said.

In 2002, Stephenson got a dream offer, to become the chief designer for Ferrari and Maserati. Stephenson knew that creative freedom was limited at Italian companies, since they tend to be more traditional design-wise, but could not turn down the offer. While at Ferrari, he co-designed, together with Italian design studio Pininfarina S.p.A., the F430, which has since become a classic with second-hand demand continuously climbing.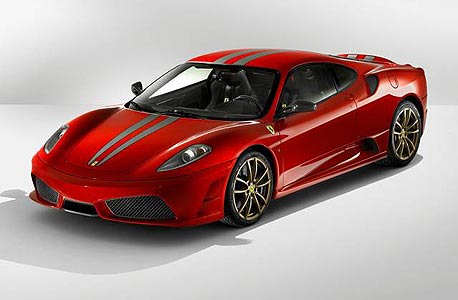 Ferrari F430

In 2006, Stephenson's supervisor sent him, much to his surprise, to work at Fiat, which, back then, was facing collapse. Fiat-Chrysler's legendary CEO Sergio Marchionne, then one of the most powerful executives in the international automotive industry, asked Stephenson to work his magic and design a car that would save the company within 10 months. Stephenson told him it was impossible but Marchionne, who was famous for his tendency to fire people who turned him down, told him simply that it was his job.

Stephenson's solution was to retrofit the design of the old Fiat Panda as a modern take on the classic Fiat 500, manufactured between 1957 and1975. Stephenson's retrofitted model was a resounding commercial success that still gets special editions made in collaboration with top fashion brands. "It is almost a pop icon," Stephenson said. "It immediately became the car you had to be seen in while cruising cool cities. It is an old car, but its skin is ageless and wrinkle-free," he said, adding that his wife, Linda, drives one.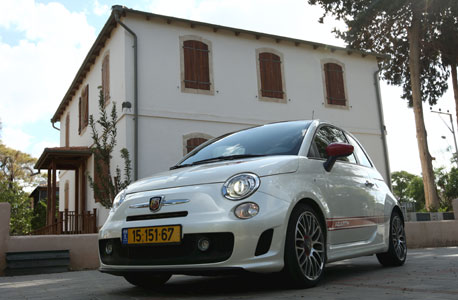 Fiat 500. Photo: Amit Shaal

Stephenson himself drives a Landrover. It is like a pair of old comfortable jeans that is full of holes, he said. As far as Stephenson is concerned, however, motorcycles still offer the true thrill.

"I own a Ducati motorcycle, which is just nuts, it is the Ferrari of motorcycles. It is probably not street legal anymore because it has undergone so many modifications that it is essentially a racing motorcycle with a license plate. Once a week, on Sunday, I wake up early and go for a ride. I ride fast and let off a lot of steam. It is a very emotional experience for me. I enjoy drawing and designing, but if I am looking for excitement I will head to the racetrack, because riding on the road is neither safe nor enjoyable. At the track, everyone is riding in the same direction and no one can cut me off without seeing me."

In 2008, after his final year at Fiat, this time as Alpha Romeo's design manager, Stephenson was appointed the chief designer of U.K.-based automaker McLaren, which is famous for its futuristic, space-inspired designs—or as comedian Jay Leno called it, "the atomic insect look." Leno's collection features a Stephenson designed McLaren P1, a hypercar model of which only 375 vehicles were made. It has a price tag of $1.15 million and can accelerate from 0 kilometers per hour to 100 kph in 2.8 seconds.

Now, three years after leaving McLaren. Stephenson is involved in two major projects. The first is an autonomous air taxi manufactured by Germany-based jet company Lilium GmbH, which is currently awaiting regulatory approval to start operating. "When I walk into the private airfield in Munich, it is like stepping into the future," he said. "These taxis take off, fly around, they do everything. The only thing that is holding them back is the safety factor—the challenge is how to prevent such a vehicle from malfunctioning mid-air and crashing down on a city, killing 100 people. With planes it is different, they fly 10,000 meters above the ground and if they crash it is in the middle of nowhere, but these air taxis fly 300 meters above the ground (the equivalent of a 90-story building) and land on hotel rooftops. It is a wonderful concept, but you have to make sure it is safe.

"Nowadays, safety is the number one priority. Design is important because if people do not like the looks of a product they will not buy it and quality is critical. But the assumption is that anything you can find on the shelf today is a quality product because people do not buy garbage, so the main marketing feature is safety," he said.

Another marketing factor that is gaining significance is a product's ecological footprint. "Today's young people consume far less," he said."And when they buy something it is not an object but an experience. That is why they prefer to ride in an Uber instead of buying a car and worrying about insurance, accidents or theft. The products that they do purchase must be environmentally friendly."

That is where Stephenson's second project comes in: the BabyArk car seat that he is designing for Israel-based Mobius Protection Systems Ltd. that promises heightened security, premier design, and an optimal user experience. The car seat, made out of carbon fiber that reduces its weight by half. It is based on military technology developed by Mobius that is already in use in Israeli-made tanks, which features a unique spiral-like part that rests on the seat's base and absorbs energy. In the case of an accident, the energy that flows through the car's frame stretches the spiral and creates a deformity in the plastic that shields the seated child.

"It is an amazing technological idea," Stephenson said, "but it is always like that: the best technology is always the simplest. I love nature, it is a major inspiration for me because it does incredible things with minimal tools. This technology, which has been used by the military, only to protect people instead of killing them, is a positive spin."

Nature as a source of inspiration is also expressed in the egg-like design, which, according to Stephenson, is meant to lend the seat a more natural and less industrial look. "That is important because it is your baby, your most precious treasure. You do not want to seat it in a machine, you want to seat it in something warm and cozy.

"The seat is designed in a way that will make parents forgo buying the newest product out there. With smart technology, we can know whether the seat was involved in an accident and what its condition is. If it is damaged, we will know where and replace only the relevant part and not the whole seat. This way, parents will be able to use the seat for years."

Stephenson also said that parents will not need to buy more than one seat per-child even in a multi-car household, as the seat's voice-operated system can guide them through installation, taking them step by step to ensure the seat is properly and safely installed, after being moved.

These features, Stephenson said, justify the seat's $650 price tag. The price should not be what stops someone, from buying this seat, he said, the only consideration should be whether it is the safest seat on the market. "We will prove that this is the safest product for your baby. Of course, not everyone can afford to buy the high-end product and we will have to examine how to capture the rest of the market."

Do you regret spending most of your career designing cars that harm the environment?

"No, not at all. Like everything else in the world, progress is the result of learning. The most important thing in a designer's career is staying relevant and that means searching for new technologies that will let your work showcase the most recent developments and strive for better efficiency with less of a harmful impact on the environment."

"Design is my life. I do not need to activate that part of me, it is always there. I look at objects people make with a critical eye. It takes me a while to go from point A to point B in a restaurant because I go back to examine one object or another and think how I would redesign it, whether it is that kettle or this fork. It might look fantastic, but does it work well? It is a nice design, but is the ornament required? How does it feel when I press my thumb to it? I always seek to simplify things, nature does not make anything complicated."