Coronavirus
Israel Rolls Back Covid-19 Restrictions As Number of Sick Stabilizes
Shops to re-open, offices and factories allowed to bring in more employees, all under strict health monitoring and social distancing compliance measures
After a marathon conference call, the Israeli government approved early Sunday a series of rollbacks to restrictions put in place to prevent the spread of coronavirus (Covid-19) in light of a statistical improvement in the number of sick and infected.

Starting Sunday, there will be an easing of restrictions on the number of employees allowed to work from the office (subject to prevention measures), some stores will be allowed to re-open, public prayer services will resume under strict social distancing practices and groups of up to two people are allowed to work out together.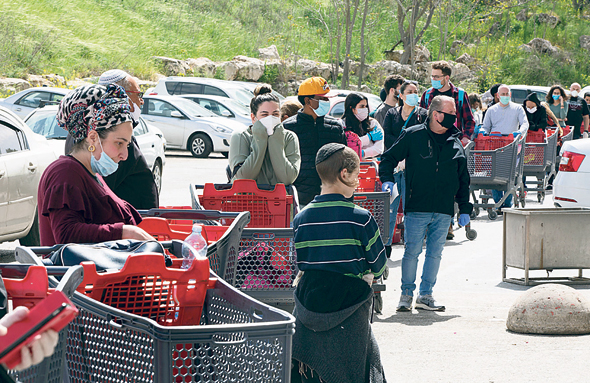 Shoppers line up outside a supermarket. Photo: Amit Shabi

The number of people diagnosed with Covid-19 currently stands at 13,265, an increase of 674 from last Thursday, but Health Ministry statistics show a decline in the number of seriously ill and the number of patients requiring respirators 164 and 113 respectively. The number of dead totals 167.

The encouraging numbers have led government decision-makers to ease restrictions on office and business closures. Starting Sunday, workplaces are allowed to have up to 30% of the workforce come to the office, provided they follow a series of guidelines including the appointment of a dedicated coronavirus officer in charge of ensuring social distancing and protective gear compliance, temperature taking at the entrance to the building, and a preference for shift work of consistent teams. The maximum number of employees allowed to work out of a shared space is eight and those over the age of 67 are requested to stay home.

After nearly two weeks of strict clampdowns on shops and service providers, the following businesses will be allowed to re-open: computer and electronics stores, textile manufacturers, furniture stores, home appliance stores, household goods providers (does not extend to toy stores), book and magazine stores, office supplies stores, sporting goods stores, music stores, medical supply stores, laundromats, and clothes and shoe repair shops.

Stores are required to keep records of all their shoppers and measure their temperature at the entrance. Shopkeepers are instructed to maintain a 2-meter radius around each customer and erect a partition between customers and the cash register station. In order to prevent mass gatherings, the easings will not apply to indoor shopping centers or open-air shopping centers with more than 15 shops.

Public transportation will remain limited to a quarter of full capacity, servicing select routes. Further restriction rollbacks are expected in the coming days.

Starting this week, police are authorized to issue fines of NIS 200 (approximately $55) for people who are caught in public spaces without possession of a protective facemask.