Personal Assistant Robot Temi to Aid Israeli Hospital Staff
The "Corobot" was selected by Israel's Ministry of Defense to assist medical teams in coronavirus (Covid-19) wards throughout the country
"When I developed the Temi, I thought about my 90-year-old mother and the help it could offer her. I didn't know the robot could save lives to such an extent," Yossi Wolf, CEO and co-founder of Shenzhen-headquartered robot company Temi Global Ltd. said in a recent interview with Calcalist. The Temi was selected by Israel's Ministry of Defense to assist medical teams in coronavirus (Covid-19) wards throughout Israel, inevitably nicknaming it he "Corobot."

In 2016, Temi was spun off from Robo-Team Ltd., a Gaithersburg, Maryland-based company founded by Israeli entrepreneurs, which develops autonomous robots for military use. Temi develops a voice-activated personal assistant robot on wheels capable of recognizing and following people around the house, making video calls, replying to user questions, playing music, or carrying small objects from room to room.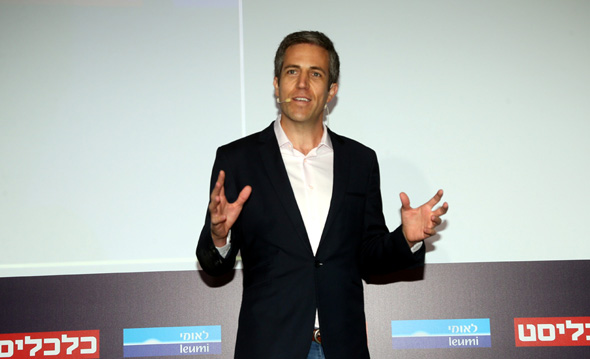 Temi co-founder Yossi Wolf. Photo: Yariv Katz

The robot costs $2,000, and is equipped with cameras and laser radars and can communicate with the world through Alexa, Amazon's personal assistant. To help fight against Covid-19, medical teams can operate it remotely and send it to perform various tasks. This means that the robots will gradually replace the teams with tasks like taking patients' temperatures, delivering medications or antibiotics to patients, and distributing food.

Doctors can also communicate with patients through the robot via video calls. The Temi can operate for eight hours between charges, can travel up to 3.6 kilometers per hour, and can carry five pounds of weight.

The Temi participated in trials conducted by the National Corona War Technology Center, led by the Research, Development and Technological Infrastructure Administration of the Ministry of Defense, along with the Sheba Medical Center. Following an extensive two-month pilot, it will be decided whether to purchase hundreds of Temi robots, while at the same time a pilot of a different robotics company from Be'er Sheva will also be tested.

Professor Israel Dodkowitz, who represented Sheba hospital throughout the project said in a statement that "the goal is to test robotic technologies to address challenges we now face, reduce staff entry into contaminated areas, and improve communication between staff and patients."

The factory in China, which has already returned to full speed, produces about 1,000 robots a month, Wolf said. "So far we have delayed entry into the Israeli market until its voice operations in Hebrew is completed.ts screen has already been adapted to Hebrew for the benefit of staff and patients," he added.

The robot has undergone another number of upgrades with the assistance of the security industries in Israel. Israeli defense contractor Rafael Advanced Defense Systems Ltd. added a new camera and a facial recognition system to enable the Temi to accurately identify and deliver medication to patients.

"Because of the coronavirus, we have received hundreds of orders from medical institutions and nursing homes in China, Hong Kong, and South Korea," Wolf said.