Conference Call
Top Investor Says Israeli Tech Recovery Depends on America's Ability to Overcome Covid-19
Adam Fisher, a partner at Bessemer Venture Partners, is expecting financial downturn to last at least one year but believes there is no stopping good entrepreneurs
The coronavirus (Covid-19) crisis will result in an economic slowdown that will last for at least one year, but it is not necessarily a death sentence for startups, says Adam Fisher, partner at Bessemer Venture Partners.

Talking on Conference Call, Calcalist's online convention on tech in the coronavirus (Covid-19) era, Fisher, who has managed Bessemer's Israel office since 2007, investing in more than 30 Israeli startups, broke down the dangers and opportunities presented by the pandemic. "The lessons from past crises is that what usually works is cutting expenses, firing employees, reducing salaries and minimizing expenses," he told Calcalist reporter Meir Orbach. "Additionally, you need to change your projections and prepare for a deeper crisis and hope for the best. Put an emphasis on efficiency and don't assume that

at some stage everything will return to be the way it was before."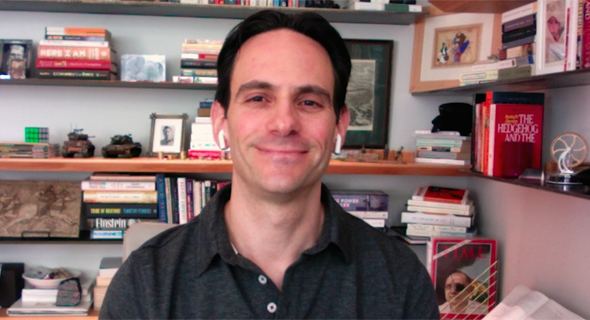 Adam Fisher. Photo: Computer screenshot

Fisher said it is easier to prepare for the worst, even though it is clear different companies face different challenges. "With time each company will understand how it is affected, but it is better to start by making difficult decisions and recruit again if and when you determine that it isn't as bad as you thought," he noted. "It is important to understand that we may be entering a period of uncertainty, but we are certainly facing at least a year or two of an economic slowdown. Not everyone will be affected in the same way. Startups don't grow at the rate of the GDP or stock exchange, their sights are set on a very narrow market that they hope will prosper. Some startups will be able to continue to work while others will have to really reassess their burn rate and adjust their plans."

Fisher stressed the importance of the U.S.'s ability to recover from the crisis to the prospects of Israeli startups. "When I talk with my startups I always guide them to focus on the U.S. market, although that isn't the only market," he explained. "There are many markets and when you sell online you also reach Europe, Asia, and South America. But Israel's fate is tied to America's fate. It is important to remember that the U.S. isn't one state, but 50 different states so it will take time to understand what is going on there because each state does things differently."

Fisher believes most startups aren't facing existential threats right now, but that some may be forced to make hard decisions. "A company that needs to raise money now will find it difficult. Investors also don't know what they want or what they are looking for and of course, there is the question of how much money they are trying to raise and from how many investors," he said. "History shows that good companies are actually founded during crises. Not necessarily because of the

crisis, but because even in times like this there is nothing that can stop good entrepreneurs from pushing forward a good idea. There is anadvantage to being small, with only a few employees, and working from home knowing that in a year or two you will have less competition. I'm all for entrepreneurs who are thinking about setting something up, but if you are very dependent on completing a big round and you had competition before the crisis from companies that already raised a lot of money, maybe you need to rethink whether this is the right project or the right timing."