AI and Digital Health Startup MyndYou Raises $4 Million
The Tel Aviv and New York-based company also announced a partnership with ALCA, an American association of caregivers for the elderly, to provide members with tools to monitor patients remotely during the coronavirus pandemic
Tel Aviv and New York-based artificial intelligence startup MyndYou has raised $4 million in a series A round, the company announced Monday.

The round, bringing the MyndYou's total funding raised to $6.1 million was led by AI Life Sciences Investments LLC, a subsidiary of New York-based Access Industries Inc. Additional participants in the round include Impact First Investments, Daybreak Investments, Amplifyher Ventures, and American businessman Howard Lee Morgan, who led the company's seed round.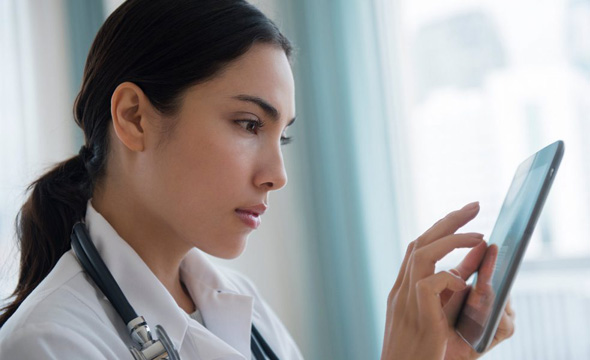 Digital health (illustration). Photo: Microsoft

Founded in 2016 by CEO Ruth Poliakine Baruchi and Chief Technology Officer Itay Baruchi, MyndYou develops an AI system capable of detecting physical and cognitive difficulties among elderly patients to improve treatment compatibility. The company employs 18 people, 11 of whom in Israel and the rest in the U.S.

The company also announced a partnership with the Aging Life Care Association (ALCA), a U.S. association of some 2,000 caregivers for the elderly. As part of the partnership, member caregivers will use MyndYou's system to converse with patients remotely, maintaining their treatment plan while adhering to the new coronavirus (Covid-19) social distancing regulations.

In the second stage of the collaboration, MyndYou's app will be integrated into ALCA's existing array of treatment management tools. The app operates passively to detect changes in walking, driving, and speech patterns that could indicate immediate medical risks and drops in cognitive abilities. The app's insights are instantly shared with caregivers who can intervene as needed.

MyndYou's system will allow ALCA caregivers to continue to support their patients virtually while relying on its predictive analytics capabilities to gain meaningful medical insights, Poliakine Baruchi said in a statement.

Never has there been a more critical time for technologies that help elderly people and those with chronic disease get the treatment they need in real-time, Avi Naider, president of AI Life Sciences, said in a statement.

Myndyou was represented in the deal by Guy Lachmann of Israeli law firm Pearl Cohen Zedek Latzer Baratz.