Number of Covid-19 Cases Drops in Israel for Seventh Straight Day
A total of 14,326 people have been diagnosed for coronavirus in Israel to date, but the number of recoveries has exceeded the number of new diagnoses each day over the past week
The number of confirmed coronavirus (Covid-19) cases in Israel climbed to 14,326 on Wednesday, but for a seventh straight day, the number of recoveries has exceeded the number of new diagnoses.

According to the Ministry of Health, the number of Israelis who have recovered from the virus now stands at 4,961, while 187 people have died from the disease to date. Asyas Argo, a 100-year-old resident of Rehovot, passed away on Tuesday after being diagnosed on the first night of Passover. Rabbi Haim Aharon Torchin, a 48-year-old man with no underlying health conditions, died from complications related to coronavirus on Tuesday. He was a resident of Bnei Brak and is survived

by a wife and 14 children.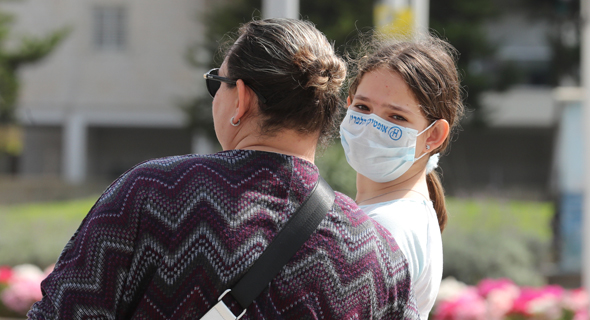 People wearing masks in Israel. Photo: Gadi Kabalo

As of Wednesday morning, 148 patients are in serious condition, a rise of 4% in the past 24 hours, including 111 in need of ventilator support, a decline of 2%.

As part of the process of rolling back restrictions, the health ministry has purchased 2.4 million serological tests for coronavirus. Serological tests check for antibodies in the blood that can indicate if a person has had Covid-19 and has developed an immunity to it. Serological tests of the population could help health officials determine what percentage of the population may have been infected and in turn aid policymakers in deciding when and which restrictions can

be lifted.

The effort to renew economic activity is becoming a higher priority with every passing day, with 1.1 million Israelis so far registering for unemployment benefits according to the Israeli National Employment Service (INES). Around 89% have been placed on unpaid leave rather than being fired, but it remains to be seen if and when they will return to work. According to figures from the National Insurance Institute of Israel (NII) obtained by Calcalist, around 250,000 of the 1.1 million unemployed Israelis will not be receiving any unemployment benefits. The NII has already transferred either full or partial benefits to some 760,000 people, but around 200,000 submissions were rejected immediately. Over 100,000 of those requests came from people who already receive guaranteed minimum income from the NII and are therefore not entitled to unemployment benefits. "Under normal circumstances, we review around 8,500 requests for unemployment benefits a month and that figure has jumped to one million over two weeks," said NII Director General Meir Shpigler.