Covid-19 Cutbacks
62% of Israeli Tech Employees are Worried About Their Job Security
Nearly 30% of employees noted there were already layoffs in the company they work for, and 60% said that they are expecting additional layoffs in the next months due to the pandemic
Almost two-thirds—or 62% to be exact—of Israeli tech employees are worried about the impact of coronavirus (Covid-19) on their personal job security, according to a recent survey that polled Israeli employees working in the Israeli high tech ecosystem by the global executive recruitment and consulting company Kroll Consulting. Nearly 30% of employees noted there were already layoffs in the company they work for, and 60% said that they are expecting additional layoffs in the next months due to the pandemic.
The survey conducted by Kroll Consulting gathered inputs from 300 Israeli tech employees.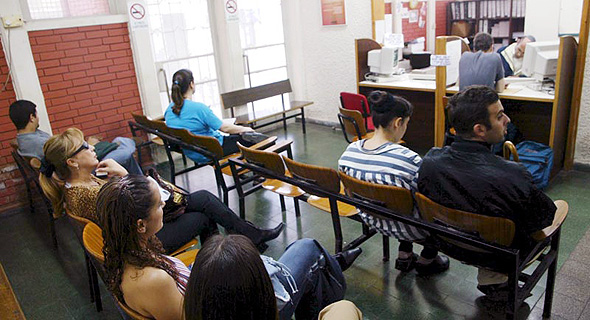 Employment office. Photo: Tzvika Tishler
The highest level of concern is in startups employing 50-150 employees, according to the survey. Approximately 80% of those surveyed said they would support a 15% temporary salary reduction to all employees so the company can avoid layoffs, according to a survey that was conducted from 14 to 20 April.
Most of the already reported salary reductions in the company have been within the range of 15% to 20%, according to the survey. An additional 14% had noted that management has already communicated there may be a need for salary reductions later this year due to the coronavirus crisis.
However, a whopping 91% of Israeli high tech employees are confident in the company's leadership team to make the right decisions to manage through the coronavirus crisis, while 73% are very confident or extremely confident. Of those surveyed, 70% expressed confidence their company will overcome the pandemic and will most likely meet this year's budget, or only slightly stray from it. Only 7% of employees feel there is a concern that their company will have huge financial difficulties because of the coronavirus crisis.
Ronit Kroll, the CEO of Kroll Consulting, noted that the survey results indicate a high level of trust and effective communication between employees and leaders in the Israeli tech industry, as well as the belief of the long term resilience of the companies to coronavirus-related challenges. According to Kroll, employees expressed high motivation for active involvement with a resolution to the crisis and have shown a high level of social solidarity supporting personal salary reductions in order to avoid layoffs in the company.