Coronavirus
Coronavirus Lockdown in Israel Was Unnecessary, Say Three Hebrew U Professors
The number of confirmed coronavirus cases in Israel now stands at 15,398 but recoveries have exceeded new diagnoses for the 10th day in a row
As the number of recoveries from coronavirus (Covid-19) continues to exceed the number of new diagnoses in Israel, three local professors are claiming that the lockdown measures implemented by the government over recent months were unnecessary and should be canceled immediately.

The number of confirmed coronavirus cases in Israel now stands at 15,398, according to data released by the Ministry of Health on Sunday. The number of people who have died from complications related to the virus hit 200 on Sunday. Some 132 patients are in serious condition, including 100 in need of ventilator support. The number of Israelis who have recovered from the virus now stands at least 6,602, with the number of recoveries exceeding the number of new diagnoses for the 10th day in a row.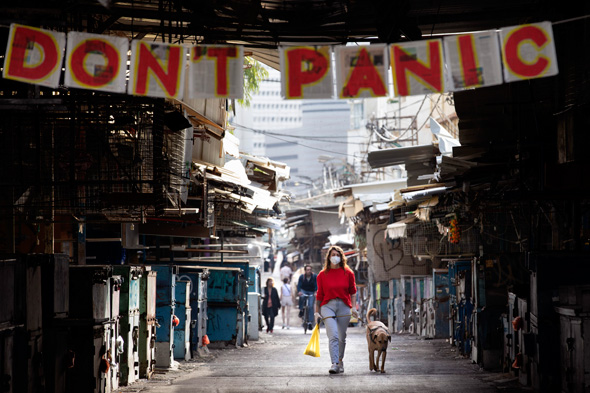 Carmel Market. Photo: AP

The government continued to roll back restrictions on Sunday, with all street stores, barbershops and beauty salons now being allowed to open as long as they adhere to strict medical guidelines.

However, according to a model developed by three professors from the Hebrew University of Jerusalem: David Gershon, founder and CEO of company SuperDerivatives, Alexander Lipton, co-founder and CTO of Sila, and Dr. Hagai Levine, an epidemiologist and the chairman of the Israeli Association of Public Health Physicians, many of the restrictions put in place were unnecessary to start with.

According to their model, countries which have more than 60 hospital beds dedicated to Covid-19 patients per one million citizens don't need to implement lockdown measures. A partial lockdown might be required if a country has less than 60 hospital beds per one million citizens, but even then the economy doesn't need to be shut down. Their model showed that Israel requires no more than 600 hospital beds for coronavirus patients to avoid a lockdown, which is five times fewer than the actual number in the country.

"Our research shows that if the goal was to prevent a shortage of ventilators in hospitals than the lockdown in Israel was unnecessary," Gershon told Calcalist. "The rate of infection already decreased rapidly when the lockdown began and was low enough that as long as the population continued to act responsibly, we wouldn't have reached a situation where there would have been a shortage of hospital beds for coronavirus patients."

Gershon claimed that the number of deaths from Covid-19 is still dwarfed by that from seasonal flu viruses. "Over recent years there are around 1,000 deaths in Israel from flu and not 40-50 as some people have said," added Gershon. "There is no reason to continue with the lockdown policy. The cost of the lockdown is astronomical, both from a financial and a human standpoint. Additionally, there is no doubt that the number of deaths that will be caused by the lockdown will be massive."