Nvidia Completes Mellanox Purchase, Companies Vow To Maintain Workforce
After Chinese regulator go ahead earlier this month, $6.9 billion deal officially completed
Nvidia officially completed the purchase of Israel-based chipmaker Mellanox Technologies Ltd. on Monday in a deal valued at $6.9 billion.
The deal, originally agreed on in March 2019, had been delayed until earlier this month when the Chinese authorities finally signed off on it. China is one of the major countries in which the two companies operate, both as their base of manufacturing and as a target market for operations.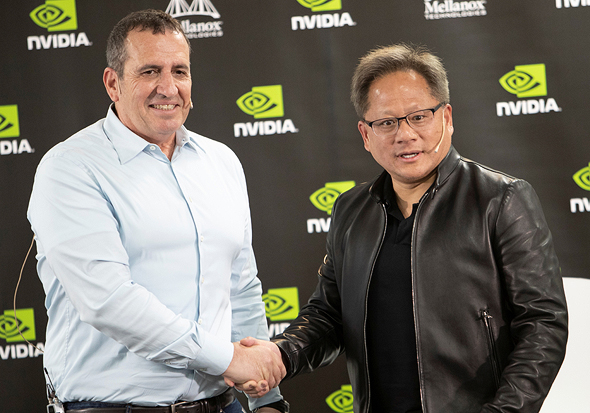 Eyal Waldman, founder and CEO of Mellanox shakes hands with Jensen Huang (right), founder and CEO of NVIDIA. Photo: Gil Nehushtan
Talking in a conference call with Israeli reporters on Monday, Eyal Waldman, founder and CEO of Mellanox and Jensen Huang, founder and CEO of NVIDIA said neither company is planning to make any changes to its workforce due to the coronavirus (Covid-19) pandemic. Most of Mellanox's 2,700 employees are based in Israel. Nvidia employs several dozen people in Israel after opening a research and development center in the country in 2017. "The virus will change the world, but not our vision of changing the computing world," said Waldman, who added that he plans to remain at the head of the company for the time being to ensure the success of the merger. "Our business is prospering. AI and other fields are blossoming, but we will continue to invest and grow. There won't be any change in the workforce of either company due to coronavirus and we will maintain that position going forward."

Huang complimented Israel for the quality of its manpower and said that the country will now become home to one of its biggest research and development centers. "The expanding use of AI and data science is reshaping computing and data center architectures," Huang said in a press release. "With Mellanox, the new NVIDIA has end-to-end technologies from AI computing to networking, full-stack offerings from processors to software, and significant scale to advance next-generation data centers."
Nasdaq-traded Mellanox manufactures interconnect chips for data centers, used by suppliers of real-time online services, and cloud services, including Japanese messaging company LINE Corporation and Alibaba.