Top Startups
Tyto Care Wants to Be Your Doctor's Eyes and Hands
Tyto Care's digital stethoscope seems to have been created specifically for the coronavirus crisis, allowing patients to seek medical care and perform tests without leaving their homes
Tyto Care

Product: remote medical diagnosis tool

Year founded: 2012

Founders: Dedi Gilad, Ofer Tzadik

Number of employees: 50

Funding raised: $105 million

Investors: Insight Partners, Olive Tree Ventures, Qualcomm Ventures, Orbimed, Cambia Health Solutions, LionBird

The global healthcare crisis brought to light by the coronavirus (Covid-19) outbreak, came as no surprise to many of those employed in the medical field. Researchers from all over the world have been warning for years against the overload in the healthcare system, created both by a growing population and the rise in life expectancy.

Quite a few companies around the world and specifically in Israel are focused on easing the burden on medical staff by developing diagnostic tools and medical devices. Among these companies is Israel-based Tyto Care Ltd. that developed a device, simple enough to be operated by the patient, that is used for remote diagnosis from home. This little hand-held device is meant to make doctor visits less frequent, especially for children.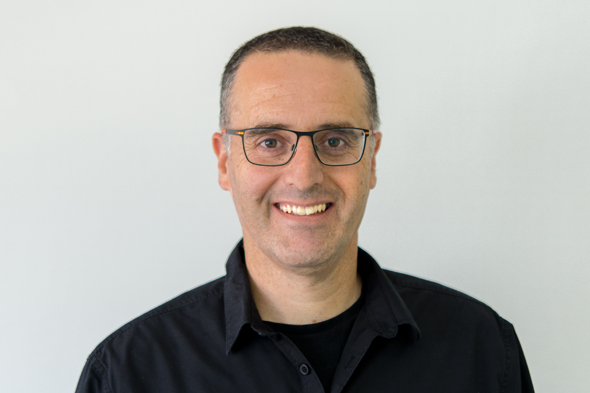 Tyto Care co-founder Dedi Gilad. Photo: Tyto Care
Tyto Care was born seven years ago from a very personal need by co-founder Dedi Gilad. "I had two small children and my four-year-old daughter had recurring ear infections," he told Calcalist in an interview. "We had a ritual of going to the doctor every two weeks, which meant letting work know I am coming in late and waiting in line at the germ-filled clinic," he added.
With Tyto Care's device, patients can conduct diagnostic examinations of the lungs, heart, throat, and ears in the comfort of their own homes. The data gathered by the device is sent to the relevant doctor, accompanied by insights on the patient's condition to assist in the medical staff's assessment.
Launching the devices was a long journey. "There were three generations of prototypes and we only hit the market three years ago," Gilad said. Before that, he explained, there were several years of development and regulatory procedures that took 18 months. "In the medical sector, you cannot just put a product out there, regulation is very complex," he said adding the company now has clearance from the U.S. Food and Drug Administration (FDA), the European Union, and Israeli regulators.
The challenge, according to Gilad, was not just technological. "The device looks simple enough but these tests are qualitative," he said. The average user does not know how to listen to a lung or how the throat is supposed to look like because they are not doctors, he explained. "So, this was our starting point: how to direct the user to make sure the data gathered is good enough," he said. "It is like a blind person using a GPS, you put the stethoscope on some part of the body, but you are not sure what the noise you are hearing means or if you even hit the right spot," he added. Some of these tests can also seem scary even when done by a doctor, Gilad said, such as examining a child's ear. The first step, he said, was creating an algorithm that helps untrained users conduct complicated medical exams. "The concept was to build a product that not only transmits its findings to a doctor but acts as their eyes and hands."
A device like Tyto Care's requires not just development, but an element of educating the market. "When you buy a smart speaker and bring it into your home, it might or might not work, but here we are talking about your family's health," Gilad said, According to him, this is why Tyto Care chose a business-to-business model, offering its device to patients only through their healthcare providers. "As a patient, when you see this product is distributed by your health maintenance organization (HMO), you know you can trust it." According to Gilad, this model is very successful in Israel, where Tyto Care has a partnership agreement with the country's largest HMO Clalit.
"We started out by working with healthcare providers that do house calls and remote clinics, to let doctors become familiar and comfortable with the device," Gilad said. "You start from a small group of users that let doctors see the benefit and then they start recommending it." According to Gilad, partnering with large health organizations is always more difficult than selling directly to consumers. "These are slow and highly conservative organizations, and even if they got a device developed by Apple, they would want to test it extensively," he said. Tyto Care now works with about 100 healthcare providers and insurance companies around the world.
The coronavirus (Covid-19) outbreak gave Tyto Care a massive push and earlier this month it announced a $50 million round led by Olive Tree Ventures, Insight Partners, and Qualcomm Ventures LLC. The round will allow Tyto Care to accelerate its development efforts and, according to Gilad, the next generation of the device will launch soon. The company also intends to lower the cost of its device and, later this year, release respiratory and throat condition diagnostic capabilities, he said.
Tyto Care is now working with health organizations on developments that would allow them to gain broader insights from the data collected by the device, Gilad said. "The first step was to make a doctor's appointment accessible without having to leave the house. Now, after the funding round, we are looking for added value," he said. The goal is to analyze the data to determine if the condition of the lung or heart is in line with what can be expected based on the patient's overall condition, he explained. It could also be analyzed to compare with other patients with similar conditions or with recurring seasonal symptoms, he added.
Most medtech companies that rely on big data can use historical medical information gathered throughout the years in order to train their algorithms, but this is not the case with Tyto Care. Other companies can buy the results of 100,000 MRI tests from an HMO and run their software on them, he said, but you can't get recordings of a child's lung to teach Tyto Care's algorithm, because, up until now, this type of test was always done manually, using an analog stethoscope. This means Tyto Care can only rely on exams conducted by its own device, in order to teach its algorithm and so its terms of service include authorization to keep anonymized data for analysis.