With Only 41 New Patients Over the Last 24 Hours, Israeli Students Sent Back to Hit the Books
On Sunday morning, 80% of municipalities in Israel have reopened their schools, Tel Aviv holds out citing unfeasible requirements
The number of confirmed coronavirus (Covid-19) cases in Israel reached 16,193 on Sunday, but the number of recoveries continues to exceed the number of new diagnoses. As a result, 80% of municipalities in Israel have reopened their schools Sunday morning, Israel's Ministry of Education announced Sunday.

Throughout the county, students in grades one, two, and three, as well as grades 11 and 12 returned to classes wearing masks and convening in small groups. The outline that has been formulated by the Ministry of Education is to split the classrooms into groups of 15 children on average. According to the model, the children will be taught intermittently and not every day of the week. In elementary schools, in-class instruction will be held on Sundays through Thursdays, and recess breaks will be staggered to avoid further exposure.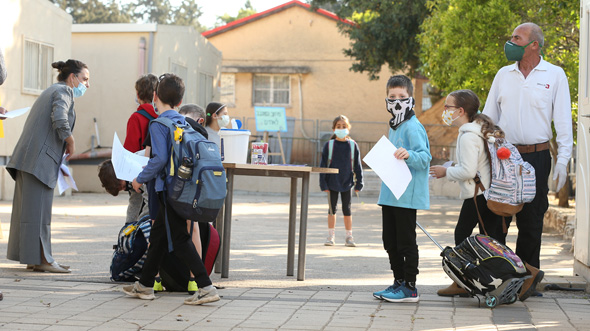 Students returning to school. Photo: Elad Gershgoren

Teachers who are 65 or older, or who have pre-existing medical conditions were told not to return to classrooms, but must receive a doctor's note confirming their conditions. It was also reported that teachers with young children who are not yet returning to daycares and kindergartens will remain at home on unpaid leave.

Tel Aviv Mayor Ron Huldai, said he would not allow schools in the country's commercial capital to resume, citing poor planning and regulations he called "unfeasible." Schools in Ramat Gan, Haifa, Beersheba, and a handful of other small cities and regional councils, declined to resume classes, postponing the opening of schools to later this week.

Because of the pandemic, Tel Aviv's 22nd annual pride parade, which was scheduled for June, is being postponed to the end of summer, with no alternative date announced yet.

According to Israel's Ministry of Health, the number of Israelis who have recovered from the virus now stands at 9,634, while 230 people have died from the disease throughout the country so far. The number of people in severe condition has also continued to drop to 103, with 82 of them requiring connection to ventilators. Israel has a total of 2,391 ventilator beds.