Analysis
Data Wars: Mobileye is the Real Engine Behind Intel's Acquisition of Moovit
Autonomous vehicle networks require huge amounts of data to train the software and various sensors as well as to save the cars of the future from having to complete thousands of hours of navigating on the roads
Data equals money, that simple formula is clear to any business owner, whether it be a bank, a shoe store, or a medical services provider. In the autonomous car industry, data is also equal to time, lots of time. Autonomous vehicle companies have long realized that data is essential when it comes to developing their technologies. That is why car manufacturers have been investing huge sums in smart transportation companies. Mercedes maker Daimler,invested in Israel-based Via Transportation Inc. back in 2017, Toyota invested hundreds of millions of dollars in Uber in 2018 and General Motors is one of the main backers of Lyft. That's why the co-signer of the Moovit deal may be Intel, but the real buyer here is Amnon Shashua's Mobileye.

Three years after completing the largest acquisition in Israel's tech history, buying Mobileye for more than $15 billion, Intel's self-driving car dream is still stuck at a red light. After early predictions foresaw driverless cars on the road in 2021, even Shashua has switched lanes. In a July 2019 column, he wrote: "series-production passenger cars will not become possible until after the robotaxi phase."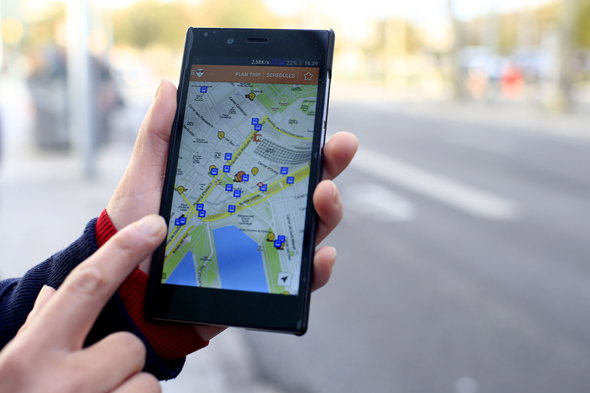 Moovit's App. Photo: Bloomberg
In November of 2019, Mobileye announced it wascooperating with a Chinese manufacturer to jointly develop a system that was suited for the self-driving taxis sector and Shashua himself noted that he estimated that the cabs would enter commercial operation in 2022 and that Intel appraises their market share to reach $160 billion by 2030.
Mobileye and Intel's new emphasis is what led them to consider the acquisition of Moovit. Autonomous vehicle networks require huge amounts of data to train the software and various sensors as well as to save the cars of the future from having to complete thousands of hours of navigating on the roads. Precise mapping is key to the industry for navigation and safety reasons, and to be able to offer municipalities and other prospective clients transportation solutions in the future, this is where Moovit has an immense advantage. Moovit is considered a world leader in terms of possessing data about the public transit sector. It works together with Uber and Lyft and, according to information from the end of 2019, controls real-time data from more than 7,000 public transportation operators augmented by input from its app users.
Moovit which started off as a public transportation use app, realized a few years ago that an app for end-users is not the appropriate use of its capabilities and now offers information to municipal and commercial public transit operators as well. Moovit is now at the perfect crossroads to collect that data: according to its reports, 775 million people use the app all around the world. It is available in 45 languages, in 3,100 cities, in 102 countries.
Mobileye could have chosen to purchase the data from Moovit, like hundreds of other companies and local authorities around the world, but instead is committing to pay a fortune to buy it up completely. For the foreseeable future, it will have to allow Moovit to continue as an independent brand so that it can go on collecting new data. But Intel and Mobileye's move reminds us that the question of data monopolies in the autonomous vehicle sector has yet to be answered. Alphabet's Waymo recently opted to go down the data-sharing route but is only doing so temporarily and in a limited fashion. Intel and Mobileye will soon come into possession of a data provider and will be able to decide whether they want to continue selling the precious data or keep it for themselves. The route they choose will have a huge impact on the entire sector and may spark an all-out data war.