Top Startups
Armis' Crazy Acquisition - The Inside Story
The meeting at the steakhouse, the proposition, the perspective, and coming out stronger from Covid-19. Armis co-founders Nadir Izrael and Yevgeny Dibrov tell the real story behind the $1.1 billion deal with Insight Partners
It all began with a steak dinner.

Things were beginning to move quickly toward the exit. It started with a surprise when in October 2019, Armis concluded a strong quarter.

Proposals for another large-scale investment round were flowing in after we had already raised $112 million. We did not need more money because we had many new customers and excellent momentum.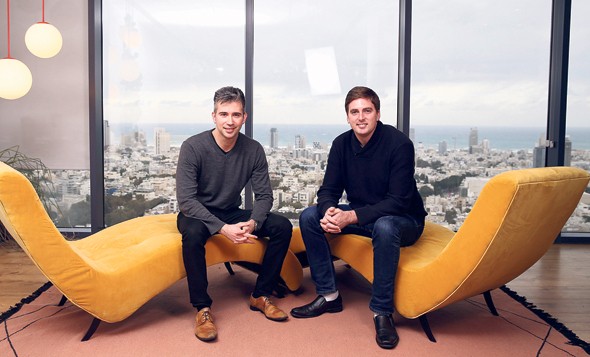 Armis co-founders Nadir Izrael (right) and Yevgeny Dibrov. Photo: Orel Cohen
Insight Partners, which was already one of our small shareholders from the April round, heard about the proposals we were fielding. It offered to increase its holding from the meagre 1.5% it had at the time. The people from Insight told us, "congratulations on another fantastic quarter. We want to give you an offer for another round. The words were backed by numbers. Including raising as much capital as we wanted or needed."
We told them that we were very grateful for the offer, but that we were in no hurry since our cash reserve was sufficient. They got back to us, saying Insight's founder, Jeff Horing, would like to meet us. We had never met Jeff before. We were both traveling at the time (Nadir to Houston and Yevgeny to Chicago). The only date we could meet him was on a Monday at the beginning of November, at 5:00pm in the afternoon, in Silicon Valley. Jeff agreed to fly in to see us for an early dinner so that we could catch our typical red-eye flights.
So there we were, in a steakhouse in Palo Alto. Jeff came with two partners, Thomas Krane and Teddie Wardi. While we were discussing what wine to order, Jeff asked whether we have anything to celebrate, or would Insight remain with only 1.5%. He went on to describe his vision, the new fund he had raised, the fund's strategy, which advocates an aggressive approach and investing only in top companies. He then added that they have looked into Armis and our growth potential, concluding we could do something big together.
As we were talking about another capital round, Jeff said, "I'm fond of big gambles. I'd love to invest $100 million, but I'd like to have an even larger holding of Armis, perhaps become a majority shareholder."
We did not quite grasp what he was really saying. We discussed it after dinner, asking one another what a majority share could mean. What stake of the company will Insight have? How would it work? We went to talk with Hagi Schwartz, formerly a VP finance at Check Point and a consultant to Insight, who has been involved in numerous investments.
We met with Hagi at a café in Palo Alto on Saturday evening. We told him about the dinner with Jeff and asked what Jeff had meant. He said Jeff was talking about acquiring a super-fast-growing company to make it even bigger in the future and have Insight Partners fund it all the way to the top. He asked for our opinion. We told him that, of course, we would have loved to hear more from Insight to understand their plans.
Two days later, we were on the phone with Jeff. He described to us his vision for Armis, and why our company is the next big thing for Insight. He stressed that they would like to have 70, even 80 percent of Armis. By the end of that week, we had the first LOU (Letter of Undertaking).
After some discussions, we finalized general terms, and we signed the document in a New York restaurant. From there began a mad race as we were very busy with the quarterly earnings, our flight schedule was full and we were working hard on acquiring customers. Meanwhile, the due diligence process had begun with an army of lawyers. We had no time to breathe. The first time we realized what had happened was on January 6, when Meir Orbach ran a story in Calcalist about Armis being sold. We went to sleep at 3:30am in Tel Aviv and by 6:30am we received photos of Calcalist's front page on our phones. This was the first time it had dawned on us that something big is happening.
The exit experience is mind-boggling and intoxicating. Within minutes, all eyes were on us. Four years of intense work culminated in an exceptional development and a big accomplishment. But looking back, the most exciting moment was when we broke the news to the employees, seeing with our own eyes the number of people whose lives had changed all from being a part of Armis. One of our key goals was always to build a company that brought real value, personal and financial, to our employees.
So it was critical to us that this transaction was fair and generous to our workers. Nothing meant more because looking after people at moments like these is the thing that makes a winning company.
We planned to tell them in the evening, but they had read about it in Calcalist in the morning. We wanted them to hear it from us because it was such a significant event. The Armis WhatsApp group was strangely silent. No employee commented on the news reports. It was very strange. We sat outside our Tel Aviv office and thought, "what do we do now?"
The first talk with the employees felt like a general shock. No one quite understood what had happened and how it impacts them. We wanted to stress to them that the company would continue to run as usual. On that day, we prepared a presentation explaining what the transaction was, how it was good for Armis strategically, and the financial benefit to each employee.
When they realized how big this was, and that they would benefit economically, including the newest employees, they were euphoric. They kept looking for the catch, not believing there was no catch to find. We received dozens of emails and text messages from employees saying how moved they are by our concern for them and how happy they are the company would continue as it was. It was so gratifying. We were on cloud nine. Not a single person at Armis was left without a payout from the transaction. That was very important to us.
The road to any success is winding and bumpy. Getting there depends on multiple factors. For us, sound technology is a must, of course. But the human element matters the most. In our case, it all started with a personal acquaintance and the strong friendship that ensued. To win the battles ahead, we knew we needed people whom we could trust, come rain or shine. We knew some of them from the military and others from previous workplaces. We laid the foundations and created our specific culture with them. Then they brought more people. Together we built a team of hungry people. People who wanted to succeed and would overcome challenges. Looking back, we know that hunger was even more important than the cumulative experience our workers had.
Another critical element is to lay strong foundations early on. When you move to a new house, people tell you, "what you don't do in the first week will never get done". This is even more true when you build a large company. The infrastructure needs to be in place. We took a personal decision to move to the U.S. at an early stage. "Relocation" may sound glamorous, but the reality is far more mundane. Running a company on both sides of the Atlantic means getting up at dawn in California and starting talks with Israel right away (because it's already afternoon there). You then fly to meet a prospect and call it a day with another hotel room talk with the Israeli team that has just started a new day.
So, you need to make sure you have the right people who you trust so everything will go smoothly, whether you are on a plane or at a meeting. On the Israeli side, it means a strong, creative, and independent engineering team. On the American side, it means experienced head of marketing and head of sales who know how to tell a story, build a pipeline, engage customers, and close deals.
When you grow fast, things that may seem like a crisis today look insignificant several months later, because the challenges are always changing. But even when you know challenges are not really catastrophic, it still takes an effort to address them calmly and with perspective.
Having had our share of challenges or "crises," we arrived at the Covid-19 pandemic in good shape. Despite it being unprecedented in scope, we had the right tools and principles.
It did not take us long to realize where the global economy was heading and the impact the crisis would have on companies. We knew we needed to act fast. As usual, we worked on several tasks at the same time: making sure our employees are safe and secure because they are the company. We moved to work from home quickly and ensured we have enough cash for the next two years while confirming our product responds to the challenges and issues of working from home. At the same time, we adapted the marketing to a digital-first world without in-person events.
Covid-19 presents threats to our global health and our global economy. Its economic impact is causing a slowdown in some parts of the market, and uninhibited growth in others, such as deliveries or video communications. However, on-site visits are now not possible in many cases. Anything that needed to be done on-site had to wait. Our response was to precipitate the plans we had for next year, for example, migrating to simple, remote deployments.
People were quick to understand the potential and why the step was necessary. We felt like a startup again, working against the clock, inventing something new. The urgency sparked a fire in the company, which in turn, brought the people closer, allowing us to put up the clients' systems via the cloud only. In one month, we completed a year's work, which is phenomenal in itself.
It's been only four months since the acquisition by Insight, but it feels like years, maybe because of the craze that accompanied it or perhaps it is the coronavirus pandemic.
Looking forward, we understand we will always need to run fast, make the necessary market adaptations, and not waste time on year-long processes. This is something that has to be in our corporate DNA or we will fall behind and will not be able to address the crises. There is always a solution that needs to be implemented.
Looking back on the past year, we realize that some plans need to be tossed aside even if you have worked on them for a long time because the new plans may be better. We also learned that you need to raise money not when you need it, but when you can. And lastly, life is bigger than us - and you need to be courageous.
Nadir Izrael and Yevgeny Dibrov are the co-founders of cyber company Armis which was sold to Insight Partners for $1.1 billion in January
2020 in Israel's largest cyber exit.