Fintech Company Zeitgold Raises 27 Million Euros in Series B Funding Round
The round was led by Vintage Investment Partners and is aimed at further developing and expanding the use of Zeitgold's AI accounting software
Berlin and Tel Aviv-based fintech startup Zeitgold GmbH has raised 27 million euros (approximately $30 million) in a series B funding round led by Vintage Investment Partners, the former announced Tuesday.

Existing investors Battery Ventures, HV Holtzbrinck Ventures, Saban Ventures, and btov Partners, as well as insurance company AXA Germany (AXA Innovation Campus) and Deutsche Bank, also participated in the round. The new round brings Zeitgold's total funding raised to date to more than 50 million euros (approximately $55 million).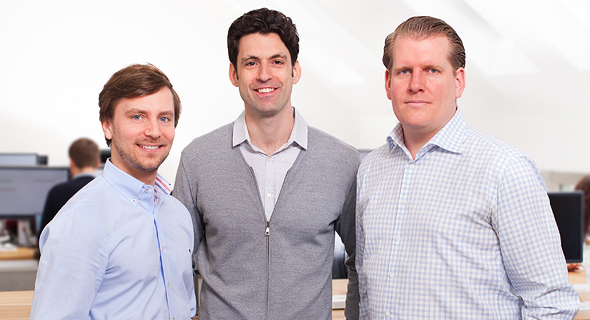 Jan Deepen(Right), Kobi Eldar, and Stefan Jeschonnek. Photo: Courtesy

The artificial intelligence accounting automation system developed by Zeitgold provides solutions to small businesses such as coffee shops, restaurants, retailers, and repair service companies. The company's app enables managers to carry out tasks like bookkeeping, payroll management, invoicing, and billing.

Business owners scan receipts and invoices using the Zeitgold app and the software automatically matches the documents with bank account transactions. All documents and data is then automatically transferred to their tax advisor.

Zeitgold was founded in 2015 by Israeli CEO Kobi Eldar, Stefan Jeschonnek, and Jan Deepen, who previously founded fintech company SumUp Inc. Zeitgold employs 100 workers, 20 of them in Israel.

The reason behind the current round was the launch of Zeitgold's new system that includes a product for accountants and small business owners, according to Eldar. "We now offer our product to all accountants to enable rapid expansion among their clients. In the past, we were working with a closed network of accountants and offered the product directly to small business owners," Eldar told Calcalist in an interview.

Zeitgold's technology will simplify the way millions of small business owners and tax advisors work, Asaf Horesh, General Partner at Vintage Investment Partners said in a statement. "We are delighted to support Stefan, Jan, Kobi and their world-class team as they continue to develop their innovative technology and to rapidly grow their business," he added.

Zetigold said in a statement that it would invest the new capital to further develop its software and continue to grow its business in an effort to become the leading accounting automation platform in Europe.

"Today, more than 80% of all booking scenarios are already automated by the artificial intelligence of the Zeitgold software, which consistently surpasses human industry standards for accuracy," the statement read.