Japan's Sumitomo Corp. Announces $100 Million Israel Focused Fund
IN Venture will be run by Eyal Rosner and Eitan Naor and has already led a $10 million funding round in Anagog, an Israeli startup developing location analytics technology
Japan's Sumitomo Corp. has launched a new $100 million investment fund geared to investments in Israel, named IN Venture.
Sumitomo, which is celebrating 100 years of activity, employs around 67,000 people in 135 countries around the world. The Nasdaq traded conglomerate has close to 1,000 subsidiaries. Sumitomo is a Fortune 500 company with an annual profit of $2.9 billion. The corporation is active in numerous industries, including steel, air travel, transport, energy, telecommunication, minerals, and chemicals.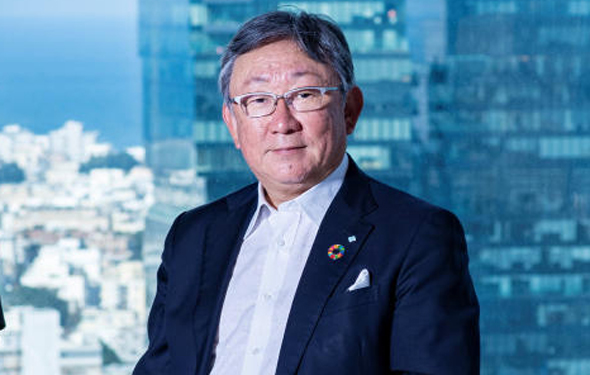 Toshikazu Nambu, Executive Vice President of Sumitomo Corp. Photo: Yuval Chen
Toshikazu Nambu, Executive Vice President of the corporation, launched the fund in Israel shortly before a mandatory two-week quarantine for anyone entering the country was implemented by the Israeli government.
The fund will be run by Eyal Rosner (55) and Eitan Naor (57). Rosner is a former chairman and director of administration for the Alternative Fuels Initiative in the Israeli Prime Minister's Office. Naor is the former CEO of ECI Telecom subsidiary ECtel and former CEO of TTI Telcom, while also previously serving as Amdocs VP of Customer Care and Billing.
In March, IN Venture led a $10 million funding round in Anagog Ltd., an Israeli startup developing location analytics technology.
"Your way of life forces you to find solutions and that impressed us," Nambu told Calcalist when asked why Sumitomo opened a fund in Israel. "Our wish is to not only connect from a financial standpoint but to also find significant collaborations. This is my first time doing business in Israel."
What exactly are you looking for?
"Our focus is on infrastructure, including smart cities, digitization, health care, cyber, IT, energy, and mobilization. Right now the world is divided into countries, but in the future, the world will be divided into regions, counties, and cities. Each city will have its own platform and expertise. Each city will have a different character and every citizen will choose where they want to live and who to pay taxes. Tokyo will compete with New York, which will compete with Tel Aviv. In order to be a good city that attracts people, you will have to excel at something. For example, Tel Aviv is very good at tourism. Our basket of products will be able to assist cities in a wide range of fields, for example high-speed internet, efficient hospitals, industry and energy, and smart transport. That, in my mind, is the definition of a smart city."
What about transport - will we really not be driving cars in the next decade?
"Last month I was in the U.S. and I rode a self-driving Tesla. It was amazing to ride on the highway at an average speed faster than I would have driven myself. Right now there are some regulatory issues, but it is being worked on across the world, including by Chinese manufacturers. Insurance companies will have to come up with a solution for self-driving cars, but the solution for this will have to come from the government."