Interview
Facebook Won't Fudge Content Oversight, Says Israeli Legal Expert
Emi Palmor, former director-general of Israel's Ministry of Justice, was recently appointed as one of the 20 founding members of Facebook's Oversight Board
Emi Palmor, former director-general of Israel's Ministry of Justice, thinks of Facebook and Instagram's Oversight Board as a "regulatory startup." Palmor spoke to Calcalist Wednesday after she was named among the founding members of the independent organization established by the social media giant to oversee its content moderation practices and rule on appeals.
Palmor rejected criticism claiming the board is a mere publicity stunt meant to polish Facebook's image following the numerous scandals it has been entangled in over the past few years. "The people in the committee are not weaklings, they all have status, positions, and a public image to maintain and they are not going to throw all of that away on Facebook's behalf," she said. "We are a group of people that are getting into this rather ambivalently due to the severity of the incidents Facebook was involved with in the past but we intend to use this regulatory startup to make a difference."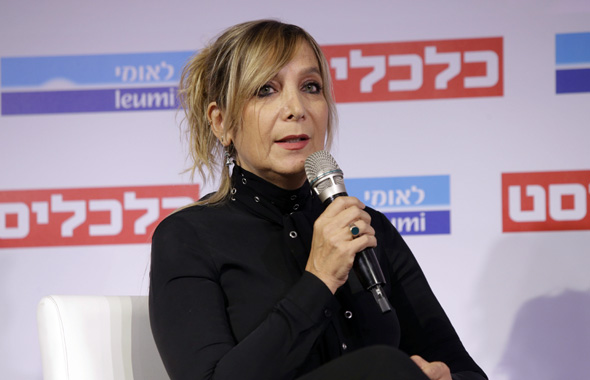 Emi Palmor was named as a member of Facebook and Instagram's Oversight Board. Photo: Amit Sha'al
The processes leading up to the establishment of the board started in November 2018, in response to public backlash for controversial content decisions made by Facebook, among them its 2016 decision to block the posting of Nick Ut's iconic 1972 photo The Terror of War.
Even though Facebook initiated the establishment of the board, it is built to operate as an independent organization and will be run by a separate company and managed by an oversight board trust. Board members will not be Facebook employees and will be chosen solely by the board and the trust, who will have sole authority over their employment. The only direct link to Facebook will be the $130 million it has already pledged to finance the board's activity.
Palmor, a veteran of Unit 8200—the Israeli military's equivalent to the NSA—is among the first 20 members appointed to the board. She started out her legal career in 1991 after graduating from The Hebrew University of Jerusalem. In 1996 she joined the Israeli State Attorney's office and in 2000 she was appointed head of the pardons department at the country's Ministry of Justice. In 2014 she became the ministry's director-general, a position she manned until last summer she was abruptly relieved from her position by newly appointed interim Justice Minister Amir Ohana.
Palmor's appointment to the board came after a multi-stage process that included background checks, interviews, references, and suggestions from the public. "It was somewhat like the process of being appointed judge," Palmor said. The process covered both personal and professional aspects, getting into her stances on human rights and her experience as a policymaker and in overseeing judicial bodies, she explained.
The other members of the board come from different countries and are all established in their fields, ranging from academia and press to human rights activism and law. Four board members—former Danish Prime Minister Helle Thorning-Schmidt; Catalina Botero Marino, dean of the Law School of the University of Los Andes, Colombia; Jamal Greene, a professor of law at Columbia University; and former U.S. Circuit Judge Michael McConnell—will act as co-chairs. Nobel Prize winner Tawakkol Karman is also among the board members.
According to the board, combined, its 20 members lived in 27 countries and speak at least 29 languages. Together, they speak the 10 most common languages in the world and 16 out of the 20 most common. All board members were appointed for a three-year tenure and can serve up to three terms each. In the future, the board intends to double in size to 40 members.
The board will start discussing cases later this year, choosing which cases it handles independently from a pool of appeals submitted by users who were displeased by Facebook's handling of a certain issue or by Facebook in general.
The board's mandate will be limited to content and for each case, it will be required to rule whether certain content violated Facebook's terms and should the content be reinstated, removed, or kept. The board will also be able to suggest non-binding amendments to Facebook's content policies.
Palmor believes that even though the board's policy recommendations are non-binding they will not be overlooked. "When you set up an organization with such an impressive team you are not going to brush its rulings under the rug," she said. The board may not be the Supreme Court but it is still going to fight for its rulings, she added. "The goal will be to set precedents, making rulings that have wide implications."
Each case will initially be discussed by a panel of five members, at least one of whom from the relevant geographic area. The board will summon outside experts to provide further information or suggest a course of action. Decisions will strive to be unanimous or as close as possible to it and will be voted on by the full board.
The board intends to choose just 50-60 cases annually with the purpose of examining those cases that have the widest implications on the platform. Palmor believes the number of cases will, in fact, be higher, between 100 and 200 cases a year, which would still be a drop in the ocean compared to the number of potential appeals from Facebook's 2 billion users. "It is a learning curve and one of the first things we will need to figure out is how to identify the cases with the biggest potential impact," she said.
One of the goals here, Palmor said, is to put a face to Facebook's decision-making process and make it more transparent and diverse. "When you have, in a single panel, the former editor in chief of the Guardian, a vice president of a constitutional court in the European Union, the head of a free speech organization in Africa, and a representative from the area, there is a better chance it will make the right decisions."