FDA Greenlights Use of Aidoc's Imaging Technology to Detect Covid-19
The technology developed by the Tel Aviv-based startup can help radiologists detect lung anomalies associated with coronavirus in any CT scan that contains the lung or part of the lung
The U.S. Food and Drug Administration (FDA) has allowed the use of previously cleared technology developed by Tel Aviv-based Aidoc Medical Ltd. to be used to detect findings associated with coronavirus (Covid-19), Aidoc announced Friday.

Founded in 2016, Aidoc develops AI-based medical imaging software designed to quickly analyze medical scans, detect critical conditions, and predict possible complications. The technology is intended to help doctors prioritize the most urgent cases and expedite treatment.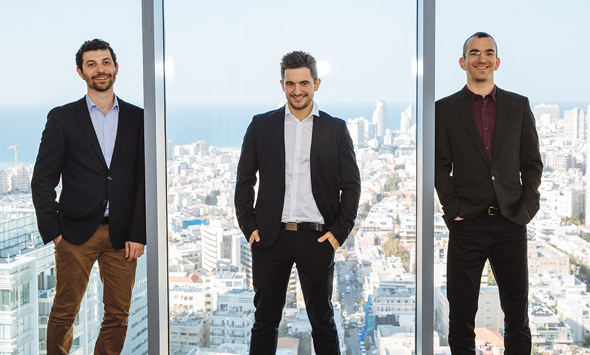 Aidoc co-founders. Photo: PR

Aidoc has received four FDA clearances for scans to detect blood hemorrhaging, strokes, pulmonary embolism, and cervical spine fractures. Aidoc's system can help radiologists detect lung anomalies associated with Covid-19 in any CT scan that incidentally contains the lung or part of the lung, including chest, abdomen, and cervical spine scans. This can allow for the detection of coronavirus in patients that exhibit no external symptoms and, therefore, are not tested specifically for the virus.

It is already known that Covid-19 causes visible changes to most patients' lungs, Reut Yalon, Aidoc's head of product strategy told Calcalist in an email. As around 15% of coronavirus patients show no distinct clinical symptoms and a large number of those infected are completely unaware of being sick in the disease's early stages, there is concern these patients might further spread the disease in hospitals when they arrive for unrelated treatment or testing, she explained.

"It is not unusual for the radiologist to be the first to diagnose Covid-19 disease in patients especially when the disease is clinically unsuspected," Paul Chang, vice-chair of Radiology Informatics at the University of Chicago Medicine, said in a statement. "Aidoc's ability to detect and triage patients with incidental findings associated with Covid-19 acts as another layer of protection as the disease may continue to circulate in the months to come," he added.