SAP.iO Foundry Tel Aviv's Second Cohort to Focus on Consumer Products Industry
During the 12-week program, the startups will have access to SAP executives and top industry mentors and have the option of deploying their solutions on the SAP App Center
SAP.iO Foundry Tel Aviv announced the launch of its second program, focused on startups in the consumer products industry, with a virtual kickoff event that took place on Monday. "We understand that especially now, in light of the Covid-19 crisis, even the best startups will need support in reaching global markets and we are fully committed to supporting our selected portfolio companies in doing so, together with SAP," said Lior Weizman, director of SAP.iO Foundry Tel Aviv.

The seven startups participating in the program: Aiola, Hexa, Pecan, Sampler, SRP, TrenDemon, and TVPage, will receive technical support with integrations into SAP solutions as well as support in engaging SAP clients around the globe. During the 12-week, equity-free startup acceleration program, the startups will have access to SAP executives and top industry mentors, will join the SAP PartnerEdge program, and have the option of deploying their solutions on the SAP App Center.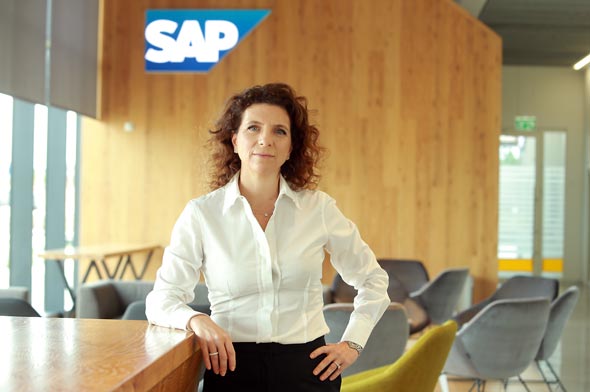 Orna Kleinmann, SAP. Photo: Orel Cohen

"The high tech scene in Israel is unparalleled, and I am very proud that we have an SAP.iO Foundry operating here and bringing Israeli innovation, ingenuity, and creativity to SAP customers to enjoy and benefit from," said Orna Kleinmann, managing director of SAP's research and development center in Israel and senior vice president of SAP's Cloud Platform.

"Over the past two months we've screened dozens of applications and aligned them with our Consumer Product Goods (CPG) clients' needs around product innovation, manufacturing, supply chain, sales, and marketing," added Weizman.

These are the seven selected startups participating in the Consumer Products cohort:

Aiola - an analytical product for CPG companies, combined with a natural language interface. The product integrates with consumer data from the enterprise resource planning, Customer relationship management, and business intelligence systems, and creates advance analytical models using deep learning technologies. The combination of the models is used to generate accurate sales and demand forecasting, trade promotion optimization, new product launch analysis, as well as market share and trends forecasting.

Hexa - an immersive content (3D/AR) as a service company. Hexa's solution uses proprietary algorithms, its unique platform, and 3D database to convert its retail partners' existing imagery into 3D and AR assets without the upfront fee that is usually required to create such content. Hexa's customers including Macy's, Google, Logitech, and others use Hexa's technology to lower visualization costs, increase sales metrics, improve customer acquisition costs, and distribute content globally.

Pecan - an automated predictive analytics platform that does not require data scientists or data science capabilities. Pecan connects to various data sources and by using advanced AI methods, unifies and standardizes the data across the sources, to allow quick and automated development and deployment of predictive use cases, such as customer collection, retention, supply chain optimization, and procurement optimization.

Sampler - a direct-to-consumer product sampling platform helping brands like L'Oréal and Nestlé deliver samples online and gather the insights they need to build one-to-one relationships with consumers. Sampler allows brands to target, track, and measure the sampling program from start to finish. Sampler has worked with over 300 brands reaching over 50 million consumers globally and its most notable clients include CPG industry giants Unilever, Pepsi, Henkel, and Kimberly Clark.

SRP - connects brands, local stores, and consumers on a single nearby platform (NP). SRP boosts CPGs' business with the private sector and creates a unique direct-to-consumer sales channel. Stores in the private sector use SRP's mobile app on a daily basis to manage their relationships with their vendors, customers, and store operations. With over 1,500 stores in the Israeli market, SRP is rapidly growing and is preparing for global expansion.

TrenDemon - TrenDemon's solution shows marketers how content affects business outcomes and helps them take action to improve their impact. TrenDemon helps marketers save time and improve productivity. TrenDemon works by seamlessly integrating with the company's assets (website, marketing automation, and CRM) and mapping the customer journey across different domains and long spans of time, from initial touch to conversion.

TVPage - TVPage provides every brand the ability to turn on brand ambassador's digital storefronts on their websites in order to promote and sell their products online. These brand ambassadors post videos and photos directly to their brand's site via the TVPage app, a workflow through which all content and activity is moderated and controlled. Ambassadors then share the shoppable content to their social audiences, generate organic search traffic, and earn a commission from their generated online sales.