Coronavirus
This AI Tool Is Putting On Scrubs to Fight Covid-19
Socrates, an AI research tool originally developed for security agencies by Israel-based company Omnisol, is now being used by Israeli hospitals to advance coronavirus research
Under regular circumstances, Israel-based Omnisol Information Systems Ltd.'s technology is used by Israel's Prime Minister's Office and intelligence services to research threats to national security. In the coronavirus (Covid-19) era, however, the artificial intelligence system, called Socrates, was converted to be used by Israeli hospitals to fight the virus.

Founded in 2012, employs nine people in its offices in northern Israeli town Kiryat Tivon. Its flagship product, Socrates, lets organizations conduct in-depth research into a specific field or subject and make better decisions in real time, Omnisol co-founder and CEO Ohad Zohar said in a recent interview with Calcalist. "Socrates integrates data from a variety of sources and saves researchers the Sisyphean labor of manually gathering it," he said. "The system can handle wide-ranging investigations, conduct in-depth technological surveys, and even help companies identify potential partners," he added.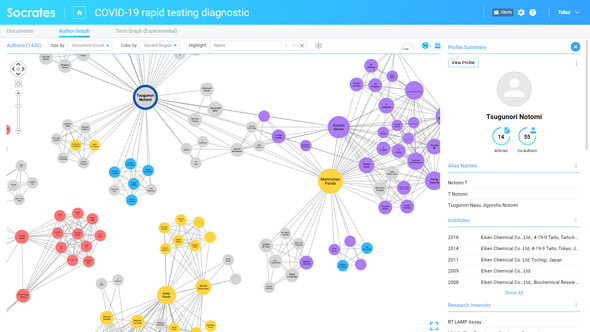 Omnisol's big data Covid-19 detections system. Photo: Omnisol

The technology was originally developed in collaboration with the chief technology officer at the Israeli Defense Ministry's Directorate of Defense Research and Development (Mafat) and Mafat was the first to use it for security and defense, according to the company.

Socrates allows for the analysis of emerging technologies and is capable of determining their possible applications, both now and in the future, as well as pinpointing relevant researchers, experts, and companies working in the field, a Mafat official, whose identity cannot be disclosed, told Calcalist. "This ability, which, until recently, was only possible through manual means, has wide ramifications on research and development," the official added.

Omnisol stumbled onto coronavirus research due to its connection with Israeli intelligence agencies. When the crisis broke, Israel set up a dedicated task force operating from central hospital Sheba Medical Center. The task force includes hundreds of analysts and experts from the Prime Minister's Office, the Ministry of Health, and the Israeli Military Intelligence Directorate. Thanks to Omnisol's existing connections with some of the entities involved in the task force, the company was called to the flag, Chief Operating Officer Tal Zohar told Calcalist.

According to Tal Zohar, once he introduced Socrates to the task force, giving it free and full access, Omnisol started to receive requests for new Covid-19-focused capabilities. Socrates allowed the task force to expand its research and dig into all relevant publications, Yaron Friedman, head of drugs and tests for the task force told Calcalist.

Tal Zohar then contacted another Israeli hospital, Haifa's Rambam Health Care Campus (Rambam Hospital), which soon adopted the technology for its fight against Covid-19.

Once the pandemic has passed, Omnisol hopes to turn to private customers in the business sector, as focus shifts from maintaining public health to rehabilitating the economy. The company intends to turn Socrates into a business intelligence engine, offering insight and actionable business recommendations including who to collaborate with, which conferences to show at, what new markets to enter, and which investors to contact.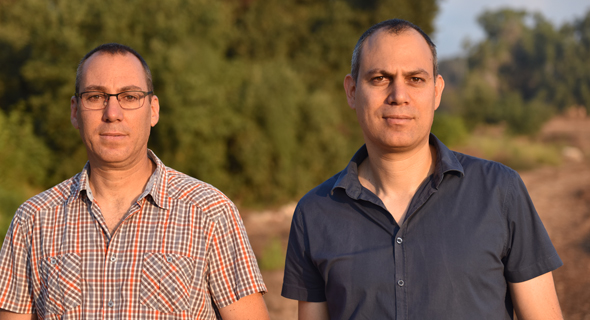 Ohad Zohar (right) and Tal Zohar. Photo: Omnisol

According to Ohad Zohar, there are three layers of technological challenge here. "First, the system needs to collect raw data from multiple sources in different languages and in real time. Then, it needs to be able to analyze the data and extract the relevant intelligence, and, lastly, it needs to create simulations to assess the success potential of the recommendations it offers," he said.