Shopic Raises $7.6 Million to Expand Queue-less Shopping
Retailers can use the platform to communicate with customers while they are in the shop and send them personalized offers
Israeli startup Shopic announced Thursday that it raised $7.6 million in its Round A Series funding led by IBI Tech Fund and Israeli supermarket chain Shufersal Ltd. with which it has a strategic partnership.

Entrée Capital, which led the pre-seed and seed rounds, and other investors also took part in the current round. Shopic, which has 15 employees, had previously raised $3.8 million.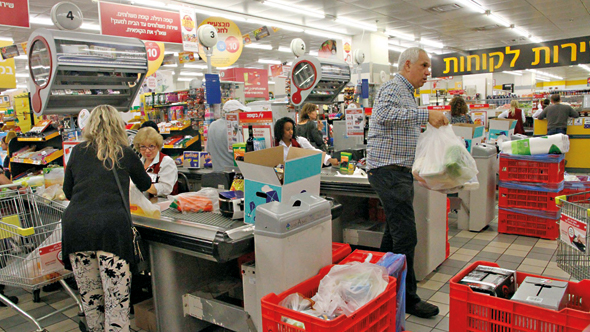 Shoppers at the supermarket. Photo: Zohar Shachar

Shopic develops a platform that allows consumers to purchase in large retail chains without having to wait in line at checkouts. Its product is based on computerized vision technology that combines applications and barcode scanning systems.

The company plans to use the money raised to expand its current activity in leading supermarket chains in the U.S. and Europe, as well as increase its research and development workforce in Israel.

Shopic's unique technology is based on AI algorithms and computerized vision which can automatically identify the products collected in the shop by the customers. The platform also runs advanced analysis that allows retailers to better understand consumer behavior and improve productivity.

Retailers can use the platform to communicate with customers while they are in the shop and send them special offers according to their personal preferences.

"Our goal is to create a simple, fast, and queue-less shopping experience and at the same time allow retailers to become more efficient by better understanding and better communicating with their customers," said founding partner and CEO, Raz Golan. "Through Shopic's advanced technology and our vast experience in the retail world we are able to provide the best shopping experience while minimizing the effect on the store's overall operations."

"One of the chains we began working with not long ago saw an increase of 10% in sales, with over 40% of the deals going through the Shopic platform, making going through the checkout unnecessary. In addition, we were also able to lower the number of thefts with our AI system. All of this results in a clear profit for the stores."