DiplomaTech
If Israeli Tech Companies can Overcome Protectionism, They have Lots of Opportunities in Germany
Head of Israeli Economic Mission in Berlin Doron Abrahami is optimistic trade with Germany is primed to blossom
If anyone has benefitted from the coronavirus (Covid-19) pandemic it has been companies and startups offering digital medical solutions. With much of the world moving to remote work, including the health industry, technological solutions to health issues are in high demand. The Israeli tech scene has plenty of those to offer and has been a leader in the field well before the arrival of Covid-19.
Someone who knows that well is Doron Abrahami, the Head of the Economic and Trade Mission at the Embassy of Israel in Berlin, who has been promoting partnerships in the field between the countries since his arrival to the German capital in 2016.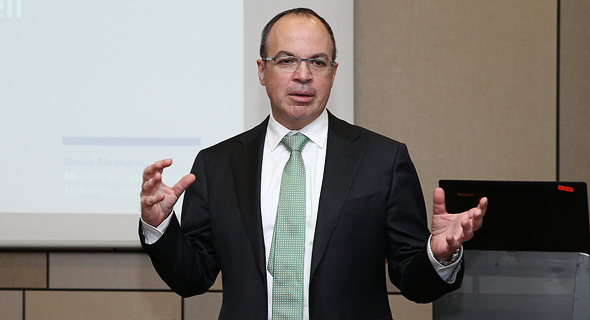 Head of the Economic and Trade Mission at the Embassy of Israel in Berlin Doron Abrahami. Photo: Orel Cohen
"This has been our baby even before the pandemic and the field we most like dealing with," Abrahami told CTech earlier this week. "There are new opportunities in Germany for MedTech companies because even prior to the arrival of Covid-19 the Germans began promoting telemedicine and eased the regulations in the field. The outbreak of the pandemic really accelerated the process. A lot of German companies now need telemedicine and we think that this is a good opportunity for Israeli companies who operate in this field. The telemedicine industry has been active in Israel for many years and Israeli companies have a lot of experience in this field."
Abrahami and the mission, one of 44 economic missions operated globally by the Ministry of Economy and Industry, was also recently involved in the international Call for Proposals focusing on healthcare pilots launched by the Israel Innovation Authority (IIA) and select world-renowned international hospitals, including Germany's biggest hospital Berlin's Charité – Universitätsmedizin. The IIA program will offer financial support of up to 50% of the project's approved R&D budget. Israeli companies are invited to submit proposals to implement pilot projects and to analyze, adapt, and optimize health-focused technologies, services, and products in the clinical environments of some of the world's leading hospitals, including the U.S.'s Mayo Clinic, Hartford HealthCare, and Thomas Jefferson University.
"This is one of our most important projects in recent years," Abrahami said. "There are a lot of examples of how digital health is catching on in Germany. There is an increase of hundreds of percent in remote consultations by doctors. Since the breakout of coronavirus, it has become a relatively common and useful tool."
Abrahami said the German government reacted very quickly to the crisis by giving the private sector grants and loans and other tools with which to face the challenging times.
"There are a lot of discussions here about Germany taking a step back from globalization in what has become known as deglobalization," Abrahami explained. "They will aim to increase local production and be less dependent on imports. If efficiency, quality, and low cost used to be the most important things for them, now there will be a greater emphasis placed on production security. That means Israeli companies will need to provide tools that will allow German companies to do it and if they can, they should have some good business opportunities."
Abrahami said that Israeli exports to Germany are very diverse and don't depend on one particular sector, noting that most of the main Israeli companies that export to Germany also have local manufacturing in the country.
"Companies like Teva, Iscar, Tadiran and Albaad, who are big exporters to Germany, all set up local production in the past and I think that helps them in a time of a crisis. They are physically close to their market and enjoy the protection and grants offered by the German government," he said. "So, therefore, we are hoping that the Israeli export, which comes to around $2 billion a year, won't significantly suffer from the crisis."
Abrahami was also involved in the launch of the 'Startupnation to Mittelstand' initiative aimed to strengthen business ties between Israel and Germany. The Mittelstand commonly refers to small and medium-sized enterprises and is known for its excellence in research, manufacturing and export. The initiative is powered by STARTPLATZ, the Israeli Innovation Authority and the Trade Mission in Berlin and has been a major success to date.
"The significance of our presence in Germany especially at this time is massive considering there are no flights," Abrahami said. "We are trying to use our network of connections, with our offices in Munich and Berlin, to connect between Israeli and German companies. The German government wants the country's traditional industries to undergo a digital transformation and the crisis has given the digital medical field, in particular, a massive boost. We believe there will be plenty of opportunities here for Israeli companies."