SaverOne Launches IPO Roadshow Without Waiting for Key Regulation
The app that prevents distracted driving is taking a risk with an aftermarket product that faces competition from Apple and Google
The coronavirus (Covid-19) pandemic has not yet departed, and already there are those who are optimistic enough about the exit strategy to carry out an Initial Public Offering (IPO) on the Tel Aviv Stock Exchange (TASE). Israeli company SaverOne Ltd. launched a roadshow on Tuesday in an effort to raise a NIS 20 million (approximately $2.8 million) round led by Rosario Capital and Discount Capital Underwriting at an estimated valuation of $20-25 million.

The company has developed a system that takes control of the driver's phone, preventing it from using apps it defines as dangerous while driving, to avoid distractions.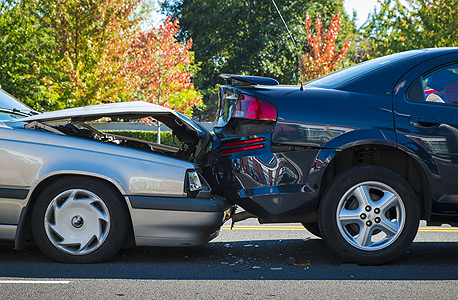 Distracted drivers lead to car accidents. Photo: Shutterstock

In a statement, SaverOne detailed that it would need NIS 16.5 million (approximately $4.7 million) to continue its product development and an additional NIS 3.5 million (approximately $1 million) for marketing and sales. SaverOne, which employs some 24 people, noted that it has so far raised $10 million. Its strategic investors include Ituran Location and Control Ltd, which holds 14.5% of the company, Vehicle importer UMI (11.1%), and its controlling shareholder, the Eini family, which holds an additional 2.82% through Mizrach Private Holdings. The founders together hold 10.5%, and another stakeholder More Investment House (5.26%), which is entitled to a 20% discount on the offering, assuming it is valued at $15 million or higher.

An estimated valuation provided by the company granted it a $15 million accounting value, along with a $24 million put option value. SaverOne, which has been operating for more than five years and claims it already has a working product, chose to bypass VC funding despite the expectation that such a move would value it at higher than $15 million. The company hinges the fundraising cap on its operational potential and market size, which it estimates at NIS 70 million (approximately $19.8 million) contingent on the passing of state regulations requiring the public to install a solution like the one the company offers.

The company has just begun the roadshow, and talks with institutional investors indicate that they have not yet been offered investment options, some of them were not even familiar with the company. When asked about the feasibility of investing in SaverOne, some responded that since it is still a startup they were not sure it has a place on the Tel Aviv Stock Exchange. However, the relatively small amount sought for funding is such that the company's investors can assist with the round, including participating in it.

Automotive industry executives who examined SaverOne's presentation and prospectus described it as "an 'aftermarket' product, which means that in addition to distribution, marketing, and the other usual processes, it also requires government regulation. The government only enters the picture once one or more automotive companies have decided to promote the solution.

The executives suggested that SaverOne's product may pose an intermediate solution until the eventual arrival of autonomous vehicles.

SaverOne was founded in 2014 by two brothers-in-law: COO Yossi Cohen and Ami Gur, a director of the company who served as CEO and president until September 2019. Gur was replaced by Uri Gilboa, formerly CEO of James Richardson, the Negev Group, and the Mayer Group (importers of Volvo, Jaguar, and Honda).

The idea behind SaverOne's system is pretty simple: hardware and software that are fixed in the vehicle and prevent the driver from using their smartphone for anything other than handsfree calls. Though a substantial number of traffic accidents are caused by distractions from mobile devices, SaverOne's system does not appear to provide a complete solution. For one thing, according to the prospectus, the company currently only supports Android devices and not Apple's iOS devices. A second limitation is the fact that the company offers a system that includes complex hardware that needs to be installed and tailored to each vehicle, bucking the preference for software-based solutions. Few car manufacturers agree to add to their vehicles devices that they haven't thoroughly tested themselves, a process that could take years.

The company's main competitors are technology giants Apple and Google, which offer similar systems. Nowadays, most of the new cars are already equipped with Apple Car Play and Android Auto software, which render the blocking of the applications unnecessary due to the vehicle's ability to present the content to the driver in a safe way.