Interview
In a World Without Sports, Clubs can Still Retain Fan Support with Pico's Engagement Tools
Pico has created a technology to turn engaged, anonymous sports and entertainment fans into identifiable customer profiles
It is a scenario many startups have faced over recent months. On the brink of closing a crucial funding round, a call comes in bringing the whole process to a grinding halt. Coronavirus (Covid-19) changed everything, and for many VCs that meant an immediate rethink of every deal.

Haifa-based startup Pico, which has created a technology to turn engaged, anonymous sports and entertainment fans into identifiable customer profiles to support business objectives, is one of those companies. But rather than wallow and wait, CEO Asaf Nevo chose a different course of action. "We said to ourselves that we can sit and wait and hope for the best or we can try and make the most of this opportunity to grow and at the same time also put some pressure on the investors by showing them that even in a chaotic world where there is no sports Pico is succeeding in growing," Nevo told CTech. "It was a great success because I was showing them all the time that more and more teams are joining and within five weeks we doubled our number of clients."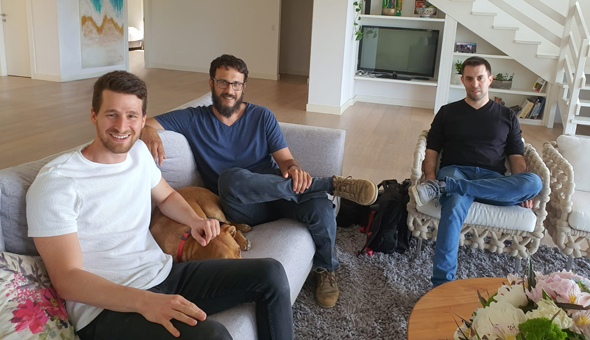 Pico co-founders (from left) Aviv Paz, Roi Mozer and Asaf Nevo. Photo: Courtesy

Pico not only increased its number of clients to around 40 clubs and franchises, but also officially closed in recent weeks its $3 million funding round led by Silverhorn Group and RSBG Ventures.

Pico uses user-generated content finder, fan polls, trivia quizzes, find the difference games, Emoji messaging and more to entice fans to communicate with brands directly over digital channels, such as Facebook, Twitter, a mobile app or website. With AI (Artificial Intelligence) and machine learning algorithms, it creates detailed profiles on each fan. For example, a fan could be offered to play an online game to try and win a signed ball. Pico generates information about the user during the game and collects personal information like an email address when they're done to help build the profile, and all with their consent and according to online regulations.

Pico boasts several NBA teams among its clients, including the Los Angeles Clippers and Philadelphia 76ers, who officially signed on during the pandemic. German football Bundesliga clubs Werder Bremen and Borussia Mönchengladbach also recently became clients, joining fellow German club Borussia Dortmund. Some four NHL teams came on board since the outbreak of Covid-19, taking Pico's total to seven. In Israel, Pico serves the likes of Maccabi Tel Aviv's basketball club and Maccabi Haifa's football club.

"In the sports world clubs are always trying to create engagement with their fans. They invest a lot of resources in creating content, setting up channels as they really want those likes and comments so that they can show they are a strong brand," Nevo explained. "We are telling these clubs that their problem has nothing to do with engagement. The average sports fan knows how to find his club online. You don't have to do much to attract the fan as they want that contact and are already emotionally attached. We tell them that their problem is that they don't know anything about the fan. And when you don't know who is giving you all these likes it is of little help to you as an organization. So we come and tell the club that our technology knows how to utilize your excellent content, and through our activities and gathering of information, we will help you understand who this fan is and help you achieve your business objectives. Rather than just being judged on engagement, the club will be able to see the performance of that engagement and if it helped grow the fan database. Did it lead to more merchandise sales? Did you sell more subscriptions to the club's TV channel? It doesn't really matter what the club's exact goals are. What is important is that we can help the club achieve them with their amazing numbers of fans."

Pico has been around since 2014, founded by Nevo, Aviv Paz and Roi Mozer, but has pivoted several times since until reaching its current product. Around 90 percent of Pico's current clients come from the sports world, but the company also works with TV channels and entertainment organizations.

While Covid-19 did result in some anxious moments for Nevo and his team as they waited to hear if their funding round would go ahead, he admitted that the pandemic ended up as an extreme positive for his company.

"This isn't easy for me to say, but for us coronavirus presented a massive opportunity. It isn't easy because many of our friends had to shut down companies as a result of the virus. Talented people and good companies had to fold it all up after these past two months," Nevo said. "The clubs could never imagine a world without ticket sales, but Covid-19 changed that. It left clubs with no pipeline for information on their fans. We came to all the clubs with which we had been talking for a while and told them that this is exactly what we had been talking about. We said that we understand your situation and that the fans are really bummed because there aren't any games, but we can help you with cool activities that will keep your fans in contact with you even during the pandemic. We can also turn these into sponsored activities so that you can offer your sponsors additional value in a world without competitions. And most importantly, we will help you build a database that will store all the information on these people so that if there's ever another crisis like this you won't be in the same mess and you will have a way to stay in touch with your fans and maintain that engagement you love so much."

Nevo said Pico has no real competition to its comprehensive solution, especially in the post-coronavirus market that will see many companies fall by the wayside. He believes Pico can help the sports world adjust to the new normal and become in the process a world leader in the field.

"Sports and entertainment suffered the biggest blows from coronavirus and companies that were unbalanced and didn't have any added value to offer in this new world simply closed down as they were no longer necessary," Nevo noted. "The sports market is old fashioned with clubs mainly being focused on the gameday. Sports clubs have yet to understand that they are actually like Amazon. They bring in tons of traffic and sell online. But they are making decisions based on what is happening on the pitch instead of what is happening online. We are helping them make the paradigm shift.

"The pandemic was a huge springboard for us. Even before coronavirus this market was undergoing a big change. Our goal for the coming years is to control our market and to position ourselves as a supplement database system to those the clubs already have," Nevo added. "A club that starts working with us will find it very difficult to manage without us afterwards. Right now we are the only company providing this A to Z solution, building the customer's journey from his first interaction on social all the way until he is part of the database."