Report: Fintech Adoption to Rise Despite 20% Investment Slide During Covid-19 Crisis
Business intelligence company Adkit says downturn trend is expected to continue, but at a more moderate rate
Business intelligence company Adkit Ltd. is expecting the downturn in investments in fintech companies to continue in the coming months, although not to the devestating extent seen over the past few months.

In a report titled, 'Fintech in the day after Corona: An extraordinary opportunity for growth', Adkit director and head of financial services Nadav Pasandi noted that the coronavirus (Covid-19) pandemic resulted in a drop of almost 20% in investment in fintech companies worldwide between the months of December 2019 and March 2020. The total sum of investment reached $6 billion, the lowest it has been in any quarter since the first quarter of 2017.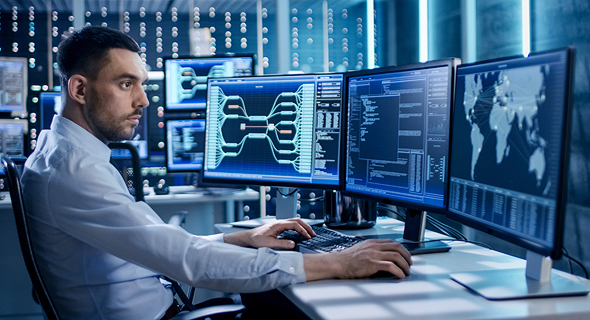 Computer programmer. Photo: Shutterstock
"In our estimate, the downturn trend is expected to continue, but at a more moderate rate than what we saw in the past few months due to the gradual thawing of the markets, especially in the U.S. and Europe and the need by companies to continue the funding rounds that were suspended," the report read.
The report also noted that according to research published by Finch Capital, a VC based out of the Netherlands, the crisis in the fintech sector is expected to last until the third quarter of 2020 and will be followed by a slow recovery period that will last 12-18 months.
"In our estimate during this period the decline in investment in fintech will continue, led by the VCs, and the difficulties to access funding by fintech companies will continue, which will lead to solvency difficulties and a drop in the value of companies," the report noted.
On the positive side, the report claimed that the coronavirus pandemic will help fintech solutions become more mainstream and receive recognition and approval from regulators. For example, companies like Intuit, PayPal and Lendio were all granted approval to participate in the U.S. government's emergency lending program for small businesses, the U.S. Small Business Administration's (SBA) Paycheck Protection Program. The $350 billion small business loan program is a part of Congress's $2 trillion stimulus package.
"To conclude, in our estimate the coronavirus crisis is expected to increase the cooperation and the merging and acquisitions of fintech companies by the leading financial bodies," the report added. "Even though the value of fintech companies is expected to drop, the demand for the solutions they provide is expected to increase and their role as significant players in the financial sector will grow."